Photo: Willow Smith Shaves Her Head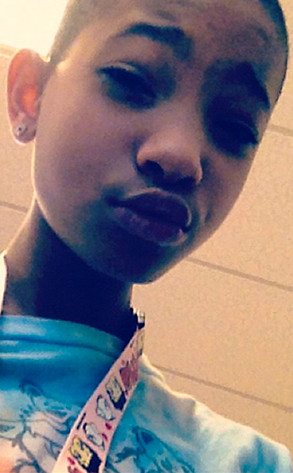 Since the invention of Facebook and Twitter (and a few other thousand social media sites), it's become quite common for celebrities to post photos of their new hairdos, so everyone can see their new look faster. So news first hit that Will Smith and Jada Pinkett Smith's daughter, Willow Smith, was showing off a new do, I didn't really think much of it – that is until I heard the type of style she went with. The 11-year-old singing sensation posted a photo of herself on her WhoSay account, sporting…(wait for it)…a newly shaved head. What? Yep. It looks like she won't be whipping her hair back and forth anytime soon. What a bold move!
But she's not the only Hollywood star to attempt a short do. Demi Moore and Natalie Portman both shaved their heads in the past. Granted, they did it because their movie roles called for it, not because they just felt like it, but still it was still pretty bold. Even Willow's mom rocked a short and chic hairstyle early in her career, so the saying must true: like mother, like daughter! (Just don't tell my mom I said that…I'll never hear the end of it). Check out the photo below and see Willow's new look. Do you love it or hate it?
Click on the picture above for more photos of Willow Smith!