Pippi Longstocking is Creeping Into Your World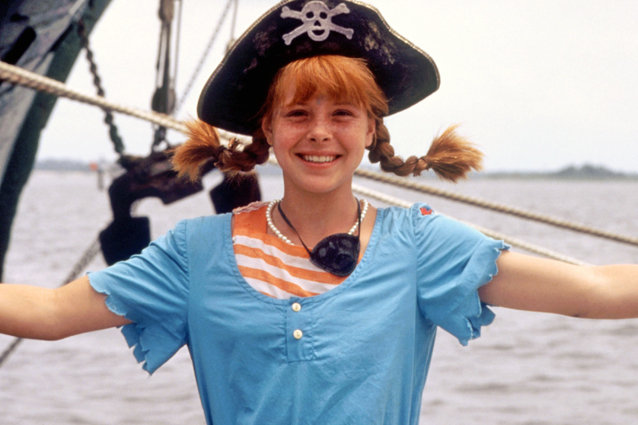 Columbia Pictures via Everett Collection
If you were a young girl in 1988, you remember falling in love with a charismatic ginger orphan named Pippi Longstocking. If you were a young boy in 1988 you remember falling in lust with the present-day version, Tami Erin, sometime around yesterday. It's a confusing time. The freckle-faced girl mainstream America fell in love with has fallen into an all too familiar path for child stars and orphans alike: The sex tape trade.
Unlike many former child stars, this 39-year-old actress isn't trying to shed her Pippi image. If anything, she's using the kid-friendly character who made her famous to make her naked body sort of famous. This has become such a problem Columbia Pictures is threatening legal action for any adult site that uses the image of the 14-year-old Pippi. It kind of feels like we should all threaten legal action for that. Grossly enough, this tactic is working. According to TMZ the two leading Pippi porn sites average 200k views per day. A bulk of this traffic comes from Sweden, where children's author Astrid Lindgren wrote the original story of the pigtailed red-head in the 1940s. Yep, it's pretty creepy stuff.
Erin's situation is seemingly sympathetic. She claims she only released the tape to beat her ex to the punch. Since many sort-of-celebs have made similar claims in the past, the theory about releasing a sex tape without her consent has been debunked. No one is buying this story even when they are buying the smut. It seems that back in August when Erin was "fighting" to keep the video from being released, she may have been just sympathetically promoting it.
Erin sold the video to Zero Tolerance Entertainment for $10,000, which is not nearly enough money to be thrown in the category of Flick from A Christmas Story, Screech Powers, and that teen mom everyone hates. Making a sex tape is such an obvious choice next to reality TV and going to rehab, and let's face it she'll likely do it all. While it's cool that people are celebrating an older woman's sexuality and body, it would be a lot cooler if she wasn't exploiting her childhood image in the process. Leave that iconic mystical hobo-kid alone.