Following Macaulay Culkin's Pizza Underground Cross-Country Tour — A Complete Itinerary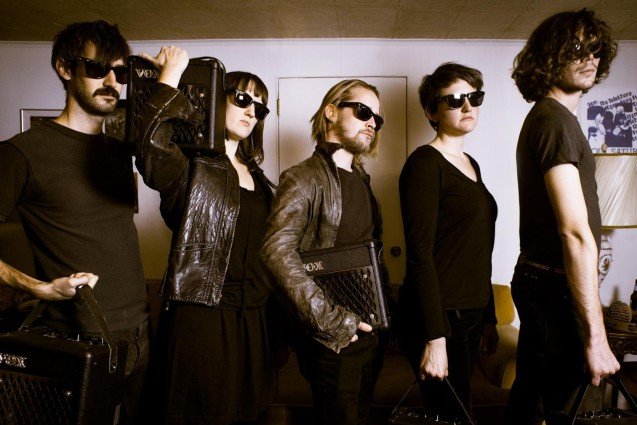 The Pizza Underground/Facebook
This must have been what people felt like when they first heard the toe-tappin' sounds of those long-haired beatniks from Liverpool. The musical movement that will, indubitably, define our generation has taken form. Round, hot, cheesy form: Macaulay Culkin's Velvet Underground tribute band The Pizza Underground — the monument of musical creativity that recalibrates the lyrics of classic numbers by Lou Reed and company to focus on the theme of pizza — has released its first video and announced a cross-country tour:
January 24 – Brooklyn @ Brooklyn Night Bazaar w/ French Horn Rebellion, Rush Midnight, Heavenly Beat & Seasick Mama
January 25 – Philadelphia @ PhilaMOCA
January 26 – New Brunswick @ Outworld
January 31 – Austin @ Breakpoint on The Boardwalk
March 5 – San Francisco @ Neck of The Woods
March 6 – West Hollywood @ Whisky A Go Go
March 7 – San Diego @ Ux31
March 8 – Tijuana @ Moustache
March 10 – Tucson @ 191 Warehouse
March 11 – El Paso @ The Lowbrow Palace
March 12 – Dallas @ Club Dada
March 13, 14, 15 – Austin @ SXSW
March 17 – New Orleans @ Hi-Ho Lounge
March 18 – Mobile @ Alabama Music Box
March 19 – Atlanta @ Mammal Gallery
March 20 – Raleigh @ Kings
March 21 – Washington, DC @ Black Cat
March 22 – Brooklyn @ Baby's All Right w/ Total Slacker
Culkin and his bandmates will kick off their two month- and 18 concert-long tour on Jan. 24 in Williamsburg, Brooklyn, gracing states like Pennsylvania, New Jersey, Texas, California, Arizona, Louisiana, Alabama, Georgia, and North Carolina — not to mention stops in Washington D.C. and Mexico — along the while. Surely it is the dream of any kazoothiast to embark on a Kerouacian journey following these polyunsaturated troubadours from start to finish… but that takes a good deal of planning and budgeting. Endeavors that a small percentage of the Pizza Underground's target demographic is willing to brave. Luckily, we have your backs. We here at Hollywood.com are lovers of Culkin, of Lou Reed, of pizza, and of the lost art of itinerary creation. We've come up with a complete fiscal guidebook for the greatest journey ever to befall humankind: following Pizza Underground across the country.
How to Follow The Pizza Underground Across the Country
We'll begin with universal costs: the tickets. Here are the prices for each of the shows on the Pizza Underground tour (those unlisted have not yet been announced to the public):
Brooklyn @ Brooklyn Night Bazaar – Free
Philadelphia @ PhilaMOCA – $15
Austin @ Breakpoint on The Boardwalk – Free, but sold out
San Francisco @ Neck of The Woods – $10 – $12
West Hollywood @ Whisky A Go Go – $20
San Diego @ U-31 – Not yet revealed
Tijuana @ Moustache – Not yet revealed
Tucson @ 191 Warehouse – Not yet revealed
El Paso @ The Lowbrow Palace – Not yet revealed
Dallas @ Club Dada – $13 – $15
Austin @ SXSW – Not yet revealed
New Orleans @ Hi-Ho Lounge – $15
Mobile @ Alabama Music Box – $10
Atlanta @ Mammal Gallery – $10
Raleigh @ Kings – $13 adv, $15 door
Washington, DC @ Black Cat – $15
Brooklyn @ Baby's All Right w/ Total Slacker – Not yet revealed
You'll notice we left out the New Brunswick @ Outworld venue. That is because there is no evidence that this establishment actually exists. We've tried Google. We've tried asking Jersey residents. We don't know what else to try. Still, we've included New Brunswick in our itinerary, just in case any of you have better luck in unlocking this mystery.
At this point, the ticket price amounts to $121 – $127. Calculating the average price per ticket ($11 – $11.50), we can estimate a total range of $187 – $196. Let's go with $196, to be safe.
So now it's time to discuss transportation. The first basic question mark concerns the long stretch between the first Austin show and the San Francisco show, otherwise known as February. Will you return home (to wherever that may be — we're going to assume Brooklyn) for the month of February, or keep course on the open road, living rogue as pizza surges through your blood?
In order to fund this trip, you might want to have a steady paying job, which will entail (most likely) you to actually do it. This means February should probably be set aside for actual life routines. As such, you'll probably want to stick to your personal automobile or public transport for the Northeast shows, isolate the Breakpoint on the Boardwalk concert with a roundtrip flight to and fro' Austin, and then hit the road (or fly out to Cali) for your trip.
If you're going to isolate Austin… You'll probably want to fly out from JFK, leaving on Jan 30, staying in a local hotel (for which you'll find pricing below) and flying back home on Feb 1. Right now, this will run you approximately $238. You can check a list of flight options here. Once March hits, you can proceed with your plan by either
-Flying to San Francisco and traveling on land from there. Presently, a flight to San Francisco will run you about $139 ($124, if you're willing to fly into San Jose). Peruse at your leisure.
-Driving to San Francisco via RV or car, and continuing on your journey in said vehicle. (The respective sections below will clue you into the fiscal plans for either method.)
But you might want to skip Austin altogether.
We hate to say it, but it could be worth it. First off, the show is presently sold out (although there are always ways…). But its isolated location and date could pose more of an inconvenience than anything else. Plus, you will indubitably return to the Austin area later on in your trip for the SXSW shows. Bear that in mind!
Or… you can do the whole thing in one fell swoop, month-long wait-around period included.
And here's how that would go down:
-Rent an RV
Again, let's assume you live in Brooklyn. Odds are, if you're a fan of the Pizza Underground, you do. As such, getting to this Williamsburg venue won't be a hastle. But you will have to rent some transport for the following shows. You can go the old fashioned way, but considering the six full days of driving that you're about to embark upon, you might want to kick up the luxury just a bit: rent an RV.
The closest Cruise America to Brooklyn would be in Roslyn, on Long Island, running you $89 a night for standard-sized RV, in addition to mileage costs of $0.34 a mile. For a 56-day trip that takes you a total of 7,606 miles, that will amount to $7,570. Then, of course, there's gas. Your RV is estimated to burn a gallon of fuel every eight miles. Gas prices vary substantially throughout our great nation, but we've factored the average per gallon cost for each of the locations you'll be visiting to be $3.22. Some quick math will lead you to a grand gas total of $3,061. Combine this with your $7,570 and you've got a grand transportation total of $10,631.
That's a pretty penny, but luckily you're not alone: the RV, complete with bedroom and kitchen, comfortably sleeps five. If you can rally a full team for this trip, it'll leave everyone only spending $2,126 on this leg of the journey. Of course, this is on top of tickets (which would bring it to $2,322) and food.
If you're going to isolate or eradicate Austin…
If you are planning to eradicate the first Austin show from your itinerary, this changes things… for the better! First off, your stay in the residential vehicle will be substantially shorter, since you're cutting out an entire month in the process. (If we're being logical, you won't need the RV for the first three shows if you're not going to continue on straight from Jersey. Just take a car to Philly and New Brunswick.) A 20-day stay in the RV will run you $1,780, plus a mileage bill of $2,344 for the 6,897 miles you'll be driving. Tack on gas expenses of $2,776 and you've got $5,120.
Food
Naturally, you're going to want to keep in step with the theme of your trip and only eat pizza. Since you're starting your trip in Brooklyn, we assume you'll want to stock up on your entire pizza banquet there, seeing as how the locations to which you plan on traveling will supply you with far inferior examples of what you know to be a delicacy. There are some problems with the plan:
-One pizza pie, in Brooklyn, will run you an average of $15. Estimate that each person will consume one pie of pizza per day. That's 56 pies of pizza per person (realistically, you won't be able to fit all your pizza in the RV fridge, but we'll get back to that), amounting to $840 for your entire diet budget. But…
-You'll need a second, third, and maybe fourth fridge. You can recycle the pizza boxes and wrap each pie in tin foil to make more space in the RV fridge, which should be stocked to the brim, but you still won't have nearly enough room for 56+ pizza pies. We know, the thought of succumbing to non-New York pizza is nightmarish, but we have a mission here.
Still, you will want to limit your intake of pizza from the otherlands. We figure that, if you're ambitious, you can stuff 20 pizza pies into one of these RV fridges. That'll keep…
i) one of you fed for 20 days
ii) two of you fed for 10 days
iii) three of you fed for six days and the next morning's breakfast
iv) four of you fed for five days
v) all five of you fed for four days
Which means, of course, that you'll eventually have to stop and get more pizza. But where will you be?
i) By the 20th day, you'll be…
Non-Austin: Back home. Perfect plan… for you. Your friends are starving, though.
Austin: In limbo, killing time between Austin and San Francisco. Restock anywhere but New Mexico (their pizza is so bad, the locals are known to throw it on roofs!), and then again in 20 days, when you'll be somewhere in Southern California (where the price is also about $15 a pie).
ii) By the 10th day, you'll be…
Non-Austin: Dallas. Average price = $9. That'll last you 'til home.
Austin: Limbo. Restock a few times before hitting California, then again in San Francisco ($15), Austin ($12), then you're home.
iii) By the sixth day, you'll be…
Non-Austin: Tijuana (your guess is as good as mine). After that, Austin ($12), then Raleigh ($10), then home.
Austin: Limbo, limbo, limbo, limbo, limbo… San Fran ($15), Tucson ($10), Austin ($12), Washington D.C. ($15), home.
iv) By the fifth day, you'll be…
Non-Austin: San Diego ($15), Dallas ($12), Atlanta ($12), home.
Austin: Limbo x 7. Then San Fran ($15), Tucson ($10), Austin ($12), Raleigh ($10), home.
v) By the fourth day, you'll be…
Non-Austin: West Hollywood ($15), Tucson ($10), Austin ($12), Mobile ($10), Brooklyn for one last show (just grab a buffalo chicken slices at Anna Maria's on Bedford), home.
-Drive your own car and stay in cheap hotels
One last time, let's assume you live in Brooklyn. If you don't, you can come stay with me the first night. (Just don't be loud, Matt has to get up early.) After that, however, you'll need to find a place to stay in each of the cities you visit. But let's back up just a second.
Considering the fact that the hotel plan would be highly unfeasible in the Austin-included route, we'll just assume that you're starting with San Fransisco for this foray.
Right off the bat, you've got that pesky RV rental fee taken off your lap. There's a good chance, too, that you've got better gas mileage in your standard sedan than you would in those fuel guzzlers — let's estimate 30 miles to the gallon.
That's $740 so far, which you can split with whatever passengers you're able to accumulate. And here's where the hotel prices come in:
San Francisco: Redwood Inn – $89/night
West Hollywood: Comfort Inn – $89/night
San Diego: Best Western Plus Hacienda Hotel – $64/night
Tijuana: Motel 6 San Ysidro – $42/night
Tucson: University Inn – $53/night
El Paso: Ibis Juarez Consulado – $35/night
Dallas: Days Inn – $33/night
Austin: Rodeway Inn – $59/night x 3 (three night event)
New Orleans: Sun Suites – $39/night
Mobile: Family Inns of America – $30/night
Atlanta: Masters Inn – $29/night
Raleigh: Econo Lodge Inn & Suites – $40/night
Washington D.C.: Knights Inn – $42
All together, that's $729. Add that to $740 (split between however many people with which you're traveling) and you've got your transporation total. But now we're back on food.
Food
Without a fridge, you'll be needing to make daily pizza stops:
San Francisco: $15 a pie
West Hollywood: $15 a pie
San Diego: $15 a pie
Tijuana: ?
Tucson: $10 a pie
El Paso: $12 a pie
Dallas: $12 a pie
Austin: $12 a pie
New Orleans: $13 a pie
Mobile: $10 a pie
Atlanta: $12 a pie
Raleigh: $10 a pie
Washington D.C.: $15 a pie
So we've covered almost all bases. The only option unaccounted for is the fly-to-San-Francisco-and-travel-on-land-from-there option. Since you're ending up in Brooklyn, you'll probably need to finagle one of those deals where you drive somebody's car across country for them. There are people who pay you to do that. Check Craigslist. Be careful, though.
SO THAT'S IT! Now you have all the information necessary to follow Macaulay Culkin's pizza-themed Velvet Underground tribute band across the continental United States. The dream.
Bon voyage!