Play it Again: The 12 Best Albums of 2012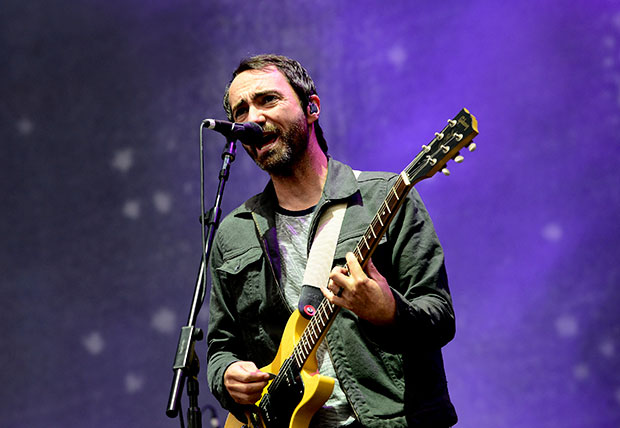 Nothing can create a sense memory quite like a song. "Ignition" comes on at a party and you're suddenly in eighth grade again, awkwardly grinding (eww) at your first middle school dance. Or you hear "Clocks," and find yourself instantly swept back to a stuffy attic bedroom, lying on the rug at your friend's house while rain rattles the window, the two of you listening to A Rush of Blood to the Head all the way through. And now, we will forever after think of the year 2012 when we hear these albums.
The best albums of the year take us back to sweeping moments of cinema, the best kind of sleepless nights and summer bonfire beach parties. Here are the top albums of the year, and why the Hollywood.com staff loved them. (Oh yeah, and there are some miserable ones, too — just because you have a record deal doesn't mean you're, like, an actual musician.)  
Port of Morrow, The Shins
The Garden State soundtrack was ingrained in my head for years, and so naturally The Shins were too. Their new album delivers the same sort of emotional yet uplifting beats that make it easy to keep on repeat for hours. —Anna Brand
Le Voyage Dans le Lune, Air
French electronica duo Air have spent over a decade composing grungy soundscapes and alt rock songs with influences from every branch of the music world. In their 2012 album, the band took on a task that was both radical and fitting: re-scoring Georges Méliès' 1902 silent sci-fi film A Trip to the Moon. Air flexes every muscle with Le voyage dans la lune, utilizing an array of instruments and otherworldly noises to convert the 20th century's depictions of the future into sound while making the tracks completely listenable to the modern ear. You won't hear a riskier album this year. —Matt Patches
End of Daze EP, Dum Dum Girls
Technically, End of Daze doesn't quite qualify as an album, but this EP has enjoyed more plays on my Spotify account than any album from 2012. Its five songs exquisitely capture the sound every Indie pop band in the business is striving to create right now. It's pure and honest, full of haunting melodies and danceable guitar pop. So yeah, it's pretty perfect. —Kelsea Stahler
Beasts of the Southern Wild (Music from the Motion Picture), Dan Romer & Benh Zeitlin
You can chalk the magic of Beasts of the Southern Wild up to the imagination of writer/director Benh Zeitlin and the immaculate performances of Quvenzhané Wallis and Dwight Henry, but another major component in the equation is the powerful, mystifying score. The music helped to paint such a vivid, enchanting picture in the tear-jerking movie. Revisiting the album long after your doubtlessly emotional theatrical experience will transplant you right back into your misty-eyed state of mind. No movie was more powerful in 2012, and the soundtrack that made that possible is easily the most enchanting music you can use to backdrop your own (admittedly less moving) day-to-day. —Michael Arbeiter
Rage Valley, Knife Party
When Australian/British drum-and-bass band Pendulum announced that they were parting ways in June of this year, fans all over the world were in mourning. But right on the heels of this sad news came the announcement that members Rob Swire and Gareth McGrillen were instead going to focus on their side project, electro-house/dubstep duo Knife Party (whose second EP had been released May 27), and fans were no longer worried — mostly because Rage Valley was so flippin' awesome. If Pendulum had to end to make way for more Knife Party amazing-ness, we were all fine with that! —Sydney Bucksbaum
The Lumineers, The Lumineers
While propelled by that oh-so-catchy and sing-a-long friendly "Ho Hey," don't pawn The Lumineers off as a one-hit wonder. Their self-titled debut album is as satisfying musically as it is lyrically. While they may not be as arena-ready as their folksy counterparts Mumford & Sons (though the track "Big Parade" begs to be sung at the top of your lungs with thousands of other fans) they are a force to be reckoned with. Songs like "Submarines" and "Dead Sea" will conjure up comparisons to The Beatles. A rock-solid debut from a band that is just getting started. —Aly Semigran
Reign of Terror, Sleigh Bells
The Brooklyn noise pop duo of vocalist Alexis Krauss and guitar player Derek Miller shattered expectations — and eardrums — with their 2010 debut, Treats. If that album sounded like girl-group sunshine filtered through gloomy heavy metal, their follow-up, Reign of Terror, is just the opposite: shred-eriffic guitar jams and stomp-clap percussion in service of taut, earwormy pop. "End of the Line" features stream-of-consciousness lyrics that could be plucked straight out of the diary of a depressed teenage girl, while "Born to Lose" and "Comeback Kid" sound like the sonic love-children of The Shangri-Las and Nirvana. Please shred responsibly. —Christian Blauvelt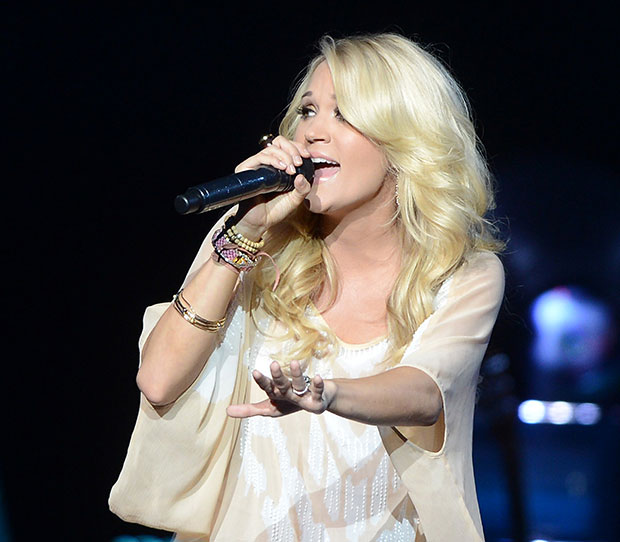 Blown Away, Carrie Underwood
Carrie Underwood never fails to impress, and Blown Away is the next step in the evolution of Underwood as an artist. With this album, she explores more pressing emotions while also producing quality songs that have fun, catchy tunes. If you listen to "Good Girl" and the single "Blown Away," you will totally understand. —Lindsey DiMattina
The Lion's Roar, First Aid Kit
If you're not careful, this Swedish duo made up of sisters Johanna and Klara Soderberg could sound like background music. Their lilt never goes to full volume and their subtle folk jingles never create the roar of dance hits or stadium rock. But when you listen close, that is when the magic happens. On a dozen moody tracks that sound like they were made in the American mountains, these two young ladies create textured melodies and velvety harmonies that bely their young age and their national origin. No one will mistake them for background again. —Brian Moylan
The Midsummer Station, Owl City
Everything about this album — as with every Owl City album — just puts me at ease. His melodies are lightheartedly catchy and the lyrics are intriguingly fun. —Leanne Aguilera
Out of the Game, Rufus Wainwright
If the glamorous soul of my being had a soundtrack, it would be Rufus Wainwright. But Rufus Wainwright produced by Mark Ronson? Well now we have the breezy, 70s-feeling music of my fall. The album is full of Wainwright's usual quirks: grandiose arrangements, lyrical quips and dips, but it's held together by this gritty, golden tone that Ronson put together. It's a different beast entirely—and a very, very good one at that. —Alicia Lutes
Bloom, Beach House
Victoria LeGrand and Alex Scally, the Baltimore duo collectively known as Beach House, know a thing or two about making good music. The band's latest album, Bloom, is a dreamy mix of psychedelic vocals and soothing melodies that can only be described as enchanting. With each of its mesmerizing singles, including such standouts as "Myth," "The Hours," and "Lazuli," Bloom succeeds in transporting you to another time and place — a time and place that lacks Earth's gravitational pull. At risk of sounding like a total hippie, listening to Bloom makes you feel like you're floating. —Abbey Stone
Coexist, The xx
Try to find a more ambitious, creative, haunting, and occasionally heartbreaking album from the year of our destruction, 2012. The minimalist background music combined with the achingly beautiful vocals show that less really can be more, and the themes of isolation and intimacy are basically universally relatable — unless you're always happy, in which case you suck. —Shaunna Murphy
The Worst of 2012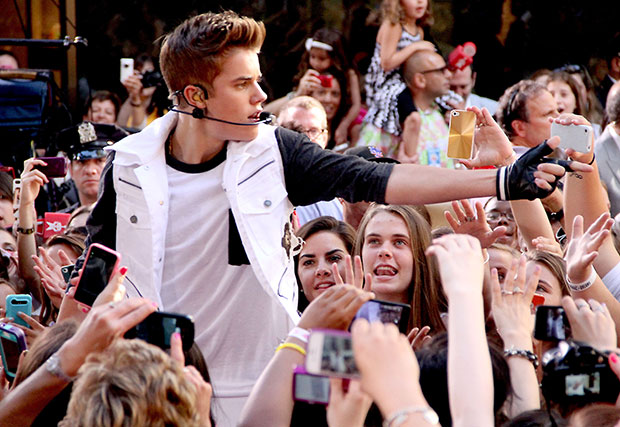 Believe, Justin Bieber
While Believe's first single, "Boyfriend," was surprisingly infectious — and hinted that Bieber may have more Timberlake potential than we initially thought — the rest of the album was pretty womp-womp. Mushy inspirational ballads, the worst offender being the album's title track, weigh down Bieber's usual pop effervescence, and the heavy synth and autotune permeating his more club-friendly tracks are something only a Belieber could love. 
California 37, Train
Train's music has always been nonsensical mainstream dreck, but the band really hit new lows with this year's California 37. The easy-listening pop easily fades into the background of car commercials and doctor's office waiting rooms alike, which may explain why no one is actually listening to what they're singing about. In the ubiquitous radio hit "Drive By," lead singer Pat Monahan declares he's "Just a shy guy looking for a two ply Hefty bag to hold my love" (he wants to put his love for you in the garbage?) and in "50 Ways To Say Goodbye," rather than come to terms with his breakup, finds a variety of ways to kill off his girlfriend, including "She was caught in a mudslide/ Eaten by a lion/ Got run over by a crappy purple Scion." (How romantic!) But the real horror comes in the form of "You Can Finally Meet My Mom" when, as Funny or Die gloriously pointed out, he actually can't wait for his girlfriend to die, so she can meet his dead mother in Heaven. I would suggest we all start listening a little closer to Train songs, but then we'd all have keep listening to Train songs.
5 (Murder by Numbers), 50 Cent
If your idea of music is a menagerie of gutteral groans and undue threats directed toward an absent second party, set within an atmosphere of incessant percussive clanging, then have we got an album for you: 50 Cent's 5 (Murder by Numbers) delivers all the constituents of a lingering headache, complete with uncessarily violent overtones!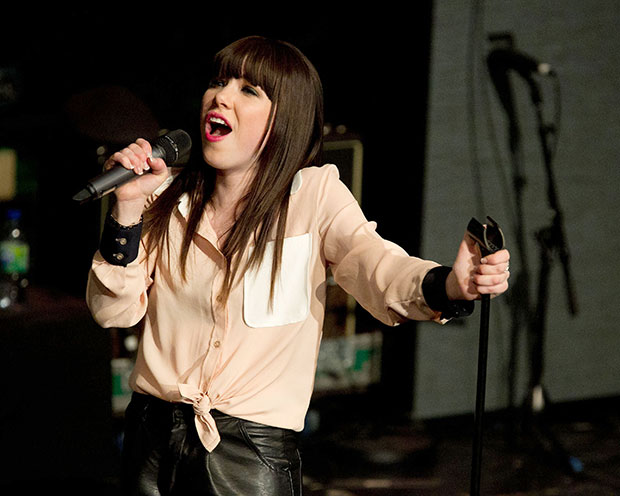 Kiss, Carly Rae Jepsen
After the viral success of "Call Me Maybe," Ms. Jepsen's first single to reach America, we had high hopes for this Canadian pop princess. Unfortunately, no other songs on Jepsen's second studio album come anywhere near replicating the magic of "Call Me Maybe," and the album as a whole is too sugary sweet to leave you with anything other than a sugar hangover. 
Fortune, Chris Brown
Chris Brown is the worst and everything he does is the worst.
[Photo Credit: WENN (4)]
More:
Staff Picks: The 14 Best Songs of 2012 (And 5 We'd Like to Forget)
Staff Picks: The 10 Best Books of 2012 (And 5 That Pretty Much Sucked)
2012: Remembering the Year that Was in Pop Culture Via Our Favorite Stories

Jennifer Lawrence Bikinis in Hawaii: Her 15 Sexiest Pics

Beaten, Bloody Gabriel Aubrey After Fight With Halle Berry's Fiance: Shocking PICS