So Just How Many Women Has Hugh Hefner Had Sex With?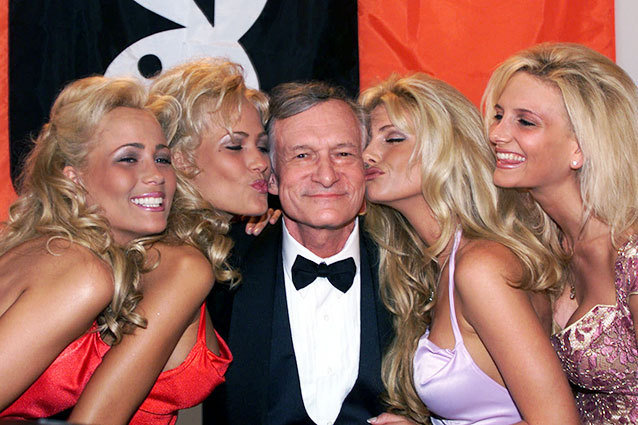 In the almost 60 years since he published the inaugural issue of Playboy, Hugh Hefner has regularly interacted with some of the most beautiful women on the planet. We all know about the legendary parties at the Playboy Mansion, not to mention whatever goes on in The Grotto. The unconfirmed rumor has always been that the number of stars appearing in the Playboy logo is Hef's ranking of what the Playmate of the Month was like in the sack. But the big question that every horny, incredibly envious, straight guy in America wants to know is this: Just how many women has Hugh Hefner had sex with?
Well, we have an answer! Sort of. In a new interview with Esquire, Hefner estimates his number of bed partners as "over a thousand." He's 86 years old (turning 87 on April 9) and he's been very public about how he's been sexually active since he was 22, so we decided to do a little math to figure out what his women per annum is.
Hefner claims in the Esquire piece to never have cheated on his wives. This makes our calculations a little tricky, though, because he and his second wife, Kimberley Conrad, separated after nine years of marriage but didn't divorce for another decade. She moved in to another house on the Playboy Mansion grounds, but, out of respect for the children they raised together, they didn't actually get divorced for another 12 years, until March 2010. Based on the Girls Next Door TV series, which began airing well before 2010, Hef was sleeping with many, many women during that time. So that means, if you add the nine years of faithful marriage to Conrad, ten years of marriage to first wife Mildred Williams, and three months of marriage to Crystal Harris, you've got roughly 19 years of marriage (during which time Hef allegedly only slept with one woman). 
Hugh Hefner and Crystal Harris Get Married
That means he's been playing the field for nearly 46 years of his life (87, minus 19, minus 22). Let's use the ballpark figure of 1001 women he's slept with in his life. We like 1001 because it conjures heady notions of Arabian Nights Bacchanals. That means, on average, he's had sex with 22 different women a year. Or two women per month for ten months out of the year, with the last two months averaging just one woman per month.
If you ask us, that's actually pretty reasonable. Compare that to NBA legend Wilt Chamberlain, who claimed to have slept with over 20,000 women, even though he only lived to be 63. That would mean Chamberlain had sex with 425 different women a year. Russell Brand claims he used to have sex with 80 different women a month, meaning about three a day.
So, actually, Hef is pretty conservative.
Follow Christian Blauvelt on Twitter @Ctblauvelt
[Photo Credit: Laurent Rebours/AP Photo]
---
You Might Also Like:


15 Oscar-Winning Nude Scenes


10 Insane 'Star Wars' Moments You Didn't Notice