Home
Celebrities
Unhappy Hour: Amanda Bynes' Insane Tweet, Kimye's Baby Name and 10 More...
Unhappy Hour: Amanda Bynes' Insane Tweet, Kimye's Baby Name and 10 More Reasons to Drink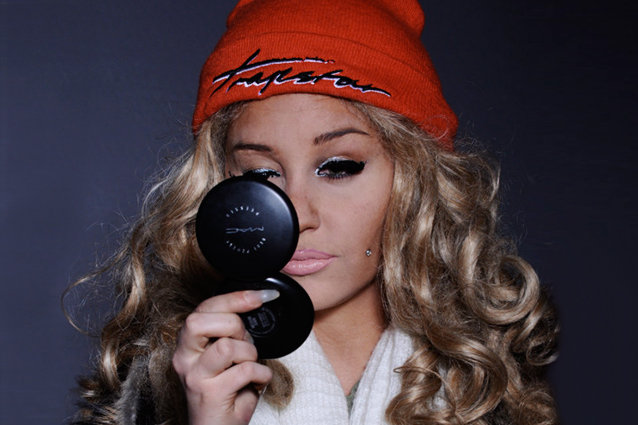 Each week, Hollywood gives us something to whine about, and the week of March 18 was no different. We could make a drinking game out of this week, but that would be too dangerous. Instead, we'll stick to the usual formula: varying levels of alcoholic respite depending on how bothersome the week's issues are. Is your biggest complaint this week a flimsy one? How about a light cocktail to take the edge off? Got a real bone to pick with a celeb or entertainment entity this week? Go ahead, grab a drink that'll put hair on your chest. Here are the week's entertainment stories that are forcing us to seek a bubbly or boozy refuge. And maybe an idea or two about how you should wash them down.
Take it Easy With a Mimosa
Dear God, Amanda Bynes Is Losing It: Look, as a woman it's not hard to see why another lady might feel a certain tingly sensation when it comes to Drake, but no one wants him to "murder [their] vagina."
Speaking of Train Wrecks, Lindsay Lohan Has Another Mug Shot For Her Collection: She's got so many, you could make a Brady Bunch title card with them. 
This Miley Magic Only Happened Once: Bring back the twerking unicorn, girl.
We're Supposed to Be Surprised That Rihanna's Bus Had Weed on It: Right, because the woman who Instagrammed a bouquet of marijuana definitely didn't take any of it on tour with her. Trapped on a bus for hours at a time? That's no place for recreational drugs. 
Let Your Hair Down: Grab a Midday Fruity Cocktail
We Really Need to Get Over Jon Hamm's Penis: We're not going to stop admiring it, just maybe the chatter part could go away?
Late Night Wars Are Back: And once again, everyone is obsessing about it like someone forced to choose between a Nacho Cheese or Cool Ranch flavored Doritos Locos taco.
Nicki Minaj's Nipples Never Seem to Fit In Her Clothes: Sounds like our girl could use a tailor.
Natalie Portman's Movie Is Haunted: Or something. Jude Law and another big player dropped out days into production of Jane's Got a Gun.
Kim and Kanye are Either Dumber Than We Thought, Or They're Evil Geniuses: They're naming their baby North West. As in the direction. 
Shut It Down: This Calls for a Martini, Straight Up
Ryan Gosling Isn't Going to Act For a While: NOOOOOOO.
In Related News, Ryan Gosling Says He's a Nightmare: What ogre stepped in a made this perfect human man believe for even a second that he was not a lovely slice of man-shaped heaven?
Follow Kelsea on Twitter @KelseaStahler
[Photo Credit: Twitter]
---
You Might Also Like:


15 Oscar-Winning Nude Scenes


Young Jack Black Is Totally Unrecognizable