Unhappy Hour: 'Happy Endings' in Danger, Baby Jolie-Pitt's Paycheck & More Reasons to Drink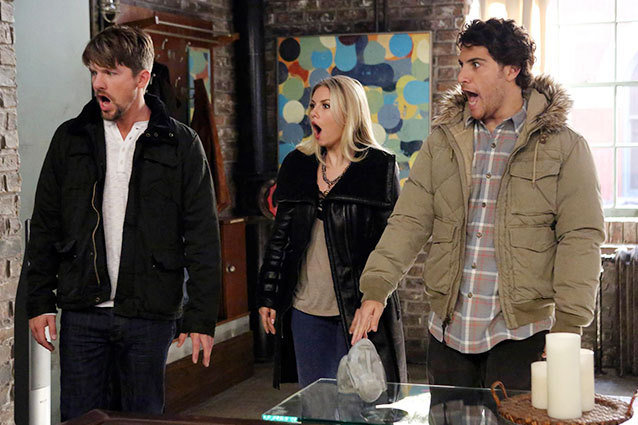 Each week, Hollywood gives us something to whine about, and the week of Feb.11 was no different. We could make a drinking game out of this week, but that would be too dangerous. Instead, we'll stick to the usual formula: varying levels of alcoholic respite depending on how bothersome the week's issues are. Is your biggest complaint this week a flimsy one? How about a light cocktail to take the edge off? Got a real bone to pick with a celeb or entertainment entity this week? Go ahead, grab a drink that'll put hair on your chest. Here are the week's entertainment stories that are forcing us to seek a bubbly or boozy refuge. And maybe an idea or two about how you should wash them down.
Take It Easy With a Little Mulled Wine. What? It Has Fruit In It.
Happy Endings Can't Catch a Break: Our favorite gaggle of Chicagoans can't seem to find a spot that sticks in ABC's lineup. Now, they're occupying the death-slot: Friday nights. Pray for Penny and her a-mah-zing friends, people!
Lady Gaga Can't Go On With Her Tour: But that just leaves us wondering, she was still on tour?
Once again, No One is Watching Community: Then again, if the NBC cult favorite was raking in huge ratings, we'd have to wonder what tragedy took place to settle out the balance.
Britney Might Have Milli-Vanilli'd "Scream and Shout": Perhaps it's time for another cleansing comeback?
Let Loose With a Girly Cocktail. We Won't Tell Your Buddies About It.
Can Melissa McCarthy Please Get a Decent Role?: Our girl is hilarious, so why's she stuck playing the same character over and over?
"Beiber Feuds" is Now a Legitimate News Beat: Really, Biebs? Now you're fighting with The Black Keys? The Hamster League of America wasn't enough for you?
We're Still Having a Hard Time Admitting We Didn't Like Frank Ocean's Grammy Performance: We love you, Frank. But we're just trying to forget your Grammys number happened.
This Poor Woman Gets Confused with Kim Kardashian "All The Time": Kim Kashkashian won a Grammy, but the poor lady still has to tell people she's not dating Kanye.
Nope. Throw in The Towel and Make Whatever You're Drinking a Double.
Brangelina's Daughter Probably Makes More Money Than You: Four-year-old Vivienne Jolie-Pitt reportedly raked in $3,000 a week for her work as Baby Aurora in Maleficent, and apparently, that shouldn't surprise us.
Chubby Checker is No Longer The Man Who Gave Us "The Twist": Unfortunately, Chubby now has to defend his good name thanks to a penis-measuring app that shares his name. Just think about it for a second.
Nicholas Sparks Says Gay Romance Isn't Really His Genre: And that makes sense how?
Taylor Swift is Still An Obnoxious Awards Show Attendee: Look, we're all about having fun at an awards show, but did Swifty really need to act like a 12-year-old at a Justin Bieber concert?
Follow Kelsea on Twitter @KelseaStahler
[Photo Credit: ABC]
---
From Our Partners:

Bradley Cooper Dancing Is Surprisingly Awkward (Vh1) 

Kate Upton Bares All in Nothing But Body Paint (Celebuzz)