Mo' #PETAProblems: Pop Stars and the Wrath Of PETA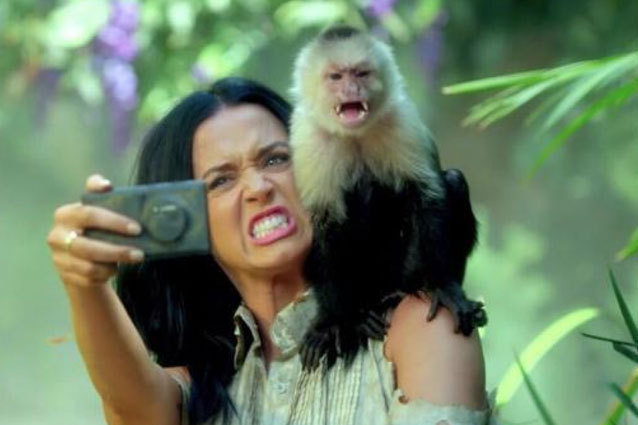 Despite being a longtime advocate of animal rights, Katy Perry found herself under fire from PETA this week after the charity claimed that the likes of the elephant, monkey and tiger used in her "Roar" video could have suffered great distress during its filming. The Billboard chart-topper has since responded with a letter from the American Humane Association which confirms that none of the animals in question were harmed in the shoot. But she's not the first pop star forced to defend her honor in such a manner. Here's a look at five others who incurred the wrath of the controversial activists.
After wearing a bikini made of meat for the front cover of Vogue in Japan, pop's least shy and retiring wallflower then went the whole hog for the 2010 MTV VMAs by sporting an entire dress made out of raw beef. Understandably, PETA didn't take too kindly to such a publicity-seeking use of animal flesh. But after offering a mumbo-jumbo explanation for its creation, Gaga remained unrepentant and recently described it as her favourite outfit ever.
At the same time most viewers of Beyoncé's Super Bowl half-time show were transfixed on her bootylicious dance moves, PETA were instead focusing all their attention on the scantily-clad costume made from the skins of pythons, iguanas and cows. Coming just a month after she wore a mink coat during her appearance at President Barack Obama's inauguration, it seems fair to say that Mrs Carter is unlikely to be on their Christmas card list this year.
A long-time arch nemesis of PETA, Jenny From The Block first caused offence when she introduced fur into her Sweetface clothing line in 2005. Two years later, several protestors stormed the audition stage of her Glow In The Dark reality show to label J-Lo as a 'fur-ho.' While the organisation even created a computer game, J.Lo Fur Bully On The Block, in which players try to rescue animals from her clothing factory.
Like Perry, Britney Spears found herself at the centre of a PETA storm following a video shoot in 2008. The pop princess had previously been criticised by the charity for draping a snake around her neck for her iconic 2001 MTV VMA performance. But she angered them even more when she failed to take any notice of their warning about the use of "cruelly trained lions and elephants" in the promo for "Circus."
PETA certainly didn't mince their words when they saw Rihanna parading around in a pair of thigh-high snakeskin boots during a night out in central London last year, labelling the R&B workhorse "a desperate freak." Using her beloved Instagram page, the unapologetic star then posted a photo of herself dressed in a white fur coat with the caption #petaproblems.
More:
Bands We'd Love To See On Game Of Thrones
Lorde Of The Teen Pop Stars
Carrie Underwood Channels Julie Andrews
---
From Our Partners:


40 Most Revealing See-Through Red Carpet Looks (Vh1)


15 Stars Share Secrets of their Sex Lives (Celebuzz)