Pop Stars Who Need To Work On Their Sales Pitch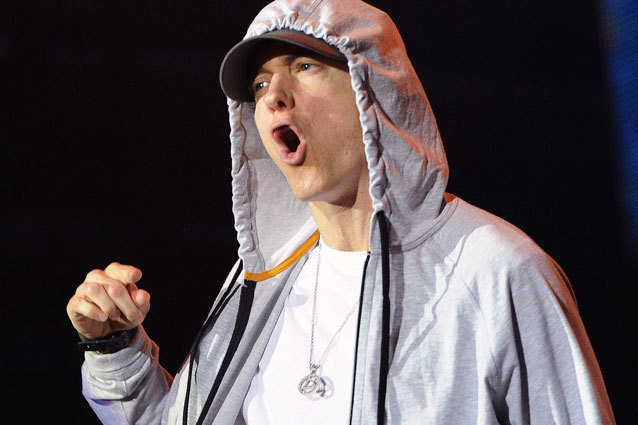 WENN
It's fair to say that Eminem must have had various Interscope record executives banging their heads on the table following his awkward appearance on ESPN's Saturday Night Football last weekend. Admitting that live TV freaks him out, the zoned-out rapper missed the ideal opportunity to whet the appetite for his upcoming eighth studio album, The Marshall Mathers LP 2, and instead mumbled about how he couldn't wait for the whole campaign to be over. But compared to some artists, his overwhelming apathy sounded like a passionate hard sell. Here's a look at five who desperately need to work on their sales techniques.
Taking a slightly less egomaniacal approach than his long-time friend Kanye West, Chicago rapper Lupe Fiasco admitted in an interview with Complex magazine that he felt completely neutral about the majority of the songs on 2011's Lasers because of the sneaky business deals behind them. However, most of his fans didn't seem to mind about the lack of blood, sweat and tears and the record entered the Billboard charts straight in at number one with first-week sales of over 200,000 copies.
A mixtape street album designed with the intention of keeping Foxy Brown's name in the spotlight until the release of her still unreleased fourth album, Black Roses, Brooklyn Don Diva was compiled whilst the rapper was serving jail time for violating her probation. On hearing the album after her release, she revealed that she was 'riddled with grief' over the finished product and subsequently fired her manager, Chaz Williams.
Long before she started grinding up against men old enough to be her father with only a bra, a pair of knickers and a foam finger covering her modesty, Miley Cyrus tried to separate herself from her squeaky-clean Disneyfied output with the admission that she doesn't actually enjoy listening to pop music herself.  Despite name-checking him on "Party In The U.S.A.," she also revealed that she'd never even heard a Jay-Z song and that the track was only ever recorded as it fitted in with her clothing line.
The Koch Records label responsible for the Foxy Brown shambles also did the dirty on KRS-One in 2003 when they released his sixth album, Kristyles, without his permission. The rap veteran won a court injunction to stop its release but its half-finished collection of songs had already been shipped out to stores by that point, prompting him to describe the whole situation as "insane, egregious and devious."
Never one to bite his tongue, the less abrasive Gallagher brother tried to stifle all the hype surrounding Oasis' much-maligned third album, Be Here Now, several weeks before its 1997 release by describing the production as bland and several tracks as "f***ing s**t." Despite Liam's insistence that it's "a top record, man," Noel has continued to dismiss it ever since. (Ed. note: Noel is right.)
More:
When Pop Stars Clash With Their Own Fans
It's Time We Talk About Ariana Grande
Kanye Goes To Kazakhstan
---
From Our Partners:


40 Most Revealing See-Through Red Carpet Looks (Vh1)


15 Stars Share Secrets of their Sex Lives (Celebuzz)