Did Avril Lavigne Just Objectify All Asians?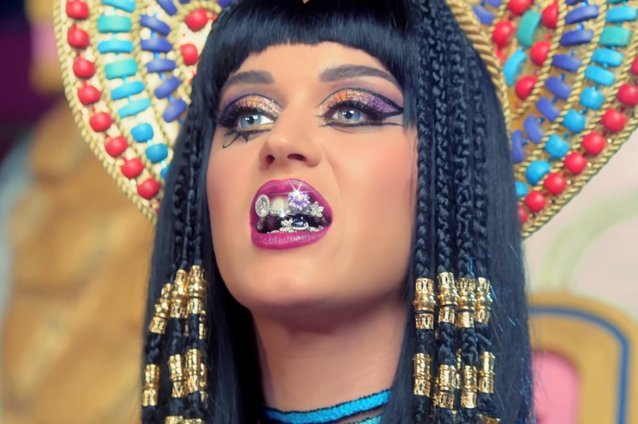 KatyPerryVEVO/YouTube
Last week, Avril Lavigne released a new music video, the now infamous "Hello Kitty." You'd think Avril Lavigne and everyone's favorite cartoon cat would be a match made in heaven, but unfortunately her (rather bland) video was pretty darn racist – cultural appropriation, awkward stereotypes, the whole nine yards. So, in honor of the latest music misstep, let's take a look back at the racist music videos of late.
"Hard Out Here," Lily Allen
Lily Allen's "Hard Out Here," was meant to be an anthem decrying the sexism of the music industry. Unfortunately, Allen's intended feminist message got somewhat obscured by the racist overtones of her video, which featured her dancing (fully clothed) in front of a group of (almost naked) women of color. Sure, it was intended as satire, but that doesn't take away the sting.
"Talk Dirty," Jason Derulo
Jason Derulo's "Talk Dirty" can be heard just about every other time you turn on the radio, and the song itself is bookended with a girl speaking in a heavy accent – it ends with a giggling Asian girl saying, "I don't understand" in broken English. Problematic to say the very least.
"Dark Horse," Katy Perry
The 50 percent of the time we're not hearing "Talk Dirty," we're hearing "Dark Horse." Katy Perry's video for "Dark Horse" offended thousands with the burning of a Allah pendant. It should also be noted that Perry's a repeat offender, after her geisha-inspired "Unconditionally" performance at the American Music Awards.
"Fine China," Chris Brown
"Fine China" was yet another problematic video – I mean, it's in the title: he actually refers to his Chinese girlfriend as an inanimate object. The video itself is also rife with stereotypes. But really, do we expect much better from Chris Brown and his rather sullied reputation?
Whew – and the worst part is, that's just the tip of the iceberg.