President Obama Says Beyonce and Jay-Z Are 'Down-To-Earth'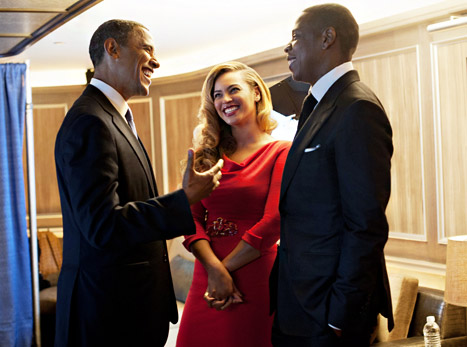 No debate here: Jay-Z and Beyoncé have President Barack Obama's vote. The President gave his seal of approval to America's other First Family during a radio interview with Cleveland's Z107.9 this week, and said that his famous loyal friends and supporters are "down-to-Earth folks" and all-around "good people."
"I've gotten to know these guys over the first several years," Obama said during his chat on the hip-hop station, which also included a discussion about swing state voters in this upcoming election and the possibility of a second term as President. 
He continued about power couple, "They're good people. They're down-to-earth. Beyonce could not be sweeter to [First Lady] Michelle [Obama] and the girls." (The Commander-in-Chief had similar praise for Beyonce during a campaign fundraiser she and Jay-Z held last month in New York City where he said the "Single Ladies" singer "could not be a better role model for my girls.")
"So they're good friends," Obama continued about the pair —who have been vocal supporters of Obama during this campaign and his run in 2008 — during the interview (which you can
listen to here
), "They really are down-to-earth folks. We talk about the same things I talk about with all my friends."
The POTUS also gave new papa HOVA some parenting advice when it comes to raising daughter Blue Ivy. Obama shared with 107.9's Colby Colb, "I made sure Jay-Z was helping Beyoncé out and not leaving it all to mom and the mother-in-law." Now that's a campaign slogan. 
[Photo credit: Twitter] 
More: 
Beyoncé Joins Jay-Z on Stage During New York Concert 
From Our Partners:

Justin Timberlake and Jessica Biel Celebrate Wedding Weekend in Italy — PHOTOS
(Celebuzz)

'Hunger Games' Stars Jennifer Lawrence, Josh Hutcherson Pose With Fans at Atlanta Movie Theater — PHOTOS
(Celebuzz)