Presidentially Passive-Aggressive: The Catty Notes of Obama and Romney
There are many effective forms of conflict resolution appropriate for dealing with someone you're not too keen on. At the top of the list: passive-aggressiveness. Now, you might have heard from your parents or your psychologist or your shaman hotline that this isn't a particularly desirable trait to uphold. But if you watched Monday night's presidential debate, then you must have caught glimpse of one President Barack Obama and former Gov. Mitt Romney diving headfirst into a sea of passive-aggressive behavior. And if it's good enough for the two guys who are vying to run our country for the next four years, it's a good enough plan to deal with your pesky roommate… with his dirty dishes and his Skrillex…
In fact, the two presidential candidates were so ensconced in their ideals of passive aggression that you might have mistaken them for a pair of dueling dorm-mates: tossing patronizing jabs back and forth, manipulating one another's words, resorting to 1990s sitcom-style zingers. Inspired by the blog Passive-Aggressive Notes.com, we've translated the head of state hopefuls' catty remarks into their rightful form: spiteful post-its. Check out the battle of the handwritten messages from President Obama and former Gov. Romney (residing over in White House Hall at D.C. State — go Eagles!) below.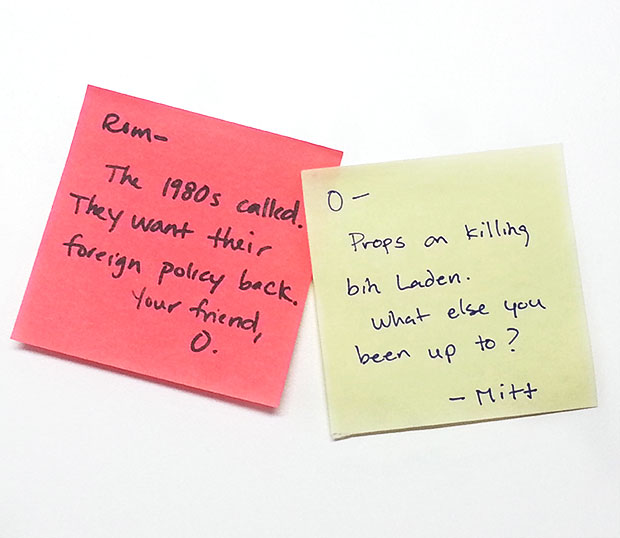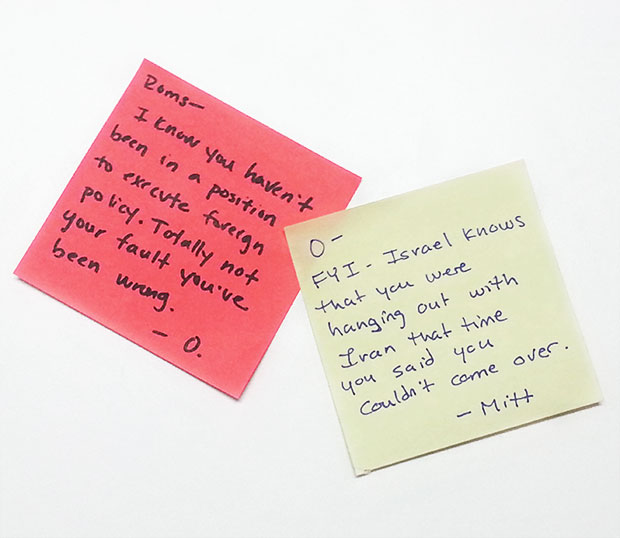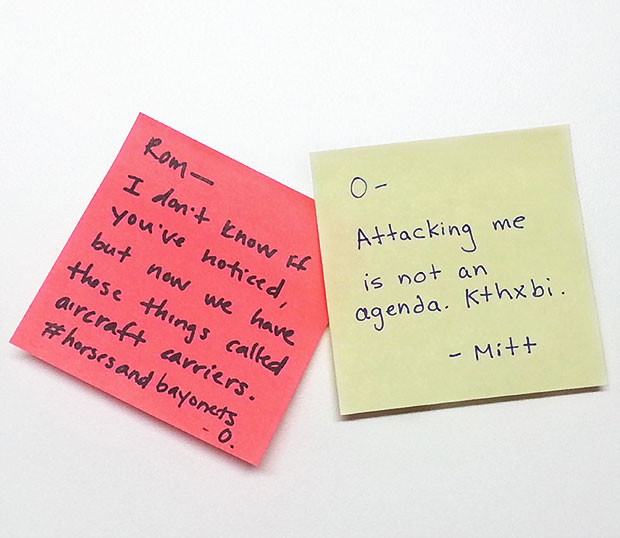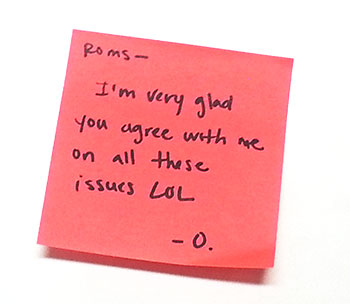 And eventually, of course, the reliable old R.A. Bob Schieffer would have to intervene. But will his write-up warnings be heeded?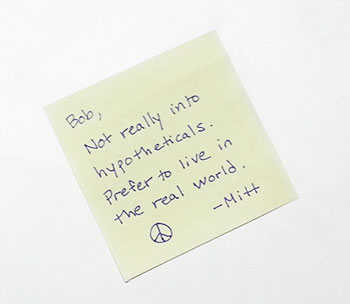 [Photo Credit: Hollywood.com]
More:
The Final Presidential Debate: Barack Obama vs. Mitt Romney – Who Won?
Pop Culture Debate: Should You Vote for Jed Bartlet or David Palmer?
Shhh! We Have Obama's and Romney's Secret Notes from the Debate
From Our Partners:

Jessica Biel Shows Off Wedding Ring After Marrying Justin Timberlake in Italy — PHOTO
(Celebuzz)

Kristin Cavallari Doesn't Want to Plan a Wedding Right Now, Says She's Focusing on Motherhood for Now — EXCLUSIVE VIDEO
(Celebuzz)