Pretty In Pink: See Crystal Harris' Wedding Gown!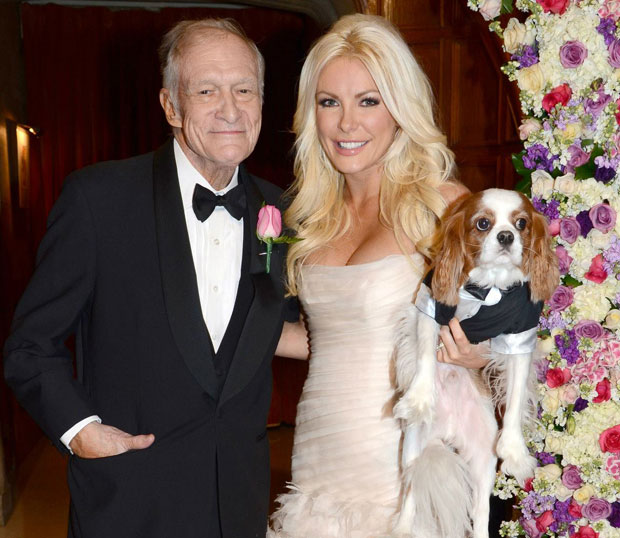 It's the classic fairytale: Boy meet girl. Girl poses nude in boy's magazine. Boy falls in love with girl. And after an attempted wedding, breakup, and reconciliation, boy and girl tie the knot in a New Year's Eve wedding. Okay, okay. Maybe it's not your typical fairytale, but for new bride Crystal Harris Hefner, life is pretty magical right about now.
86-year-old Playboy mogul Hugh Hefner married 26-year-old Crystal Harris Monday night in an intimate ceremony at the infamous Beverly Hills mansion. And guess what? The bride wore pink!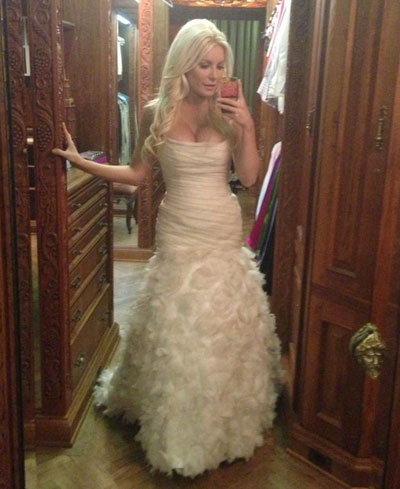 Pink wedding dresses seem to the hot new thing in bridal couture these days, and Harris looked lovely in a blush mermaid gown designed by Romona Keeveza. The Femme Fatale lingerie shop owner tweeted a full-length mirror shot of the body-hugging strapless gown early Tuesday morning.
But that's not the only peek we got into the Hefners' big day. The bride and groom took to Twitter to share oodles of details from their New Year's Eve nuptials.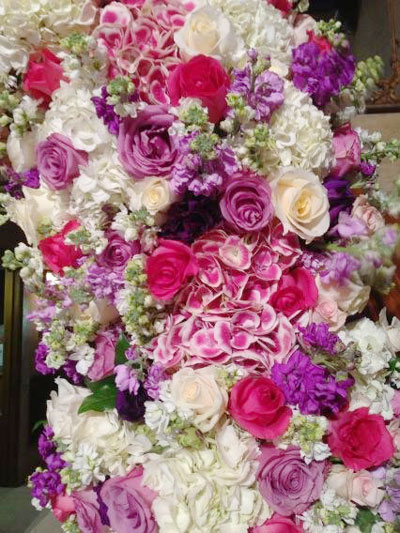 The couple exchanged their vows underneath an arch of pink, purple, and white flowers at the bottom of the mansion's iconic double stairway surrounded by a small group of family and friends.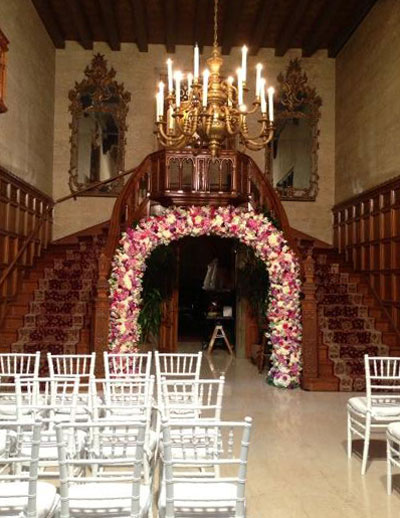 Harris also revealed the playlist that set the tone for newlyweds' romantic evening. "The harpist and flutist did an amazing job last night. They played 'As Time Goes By,' 'Because You Loved Me,' 'Somewhere Over The Rainbow' and 'Chasing Cars.' They continued to play through the night as guest arrived for the big annual NYE party," Harris tweeted.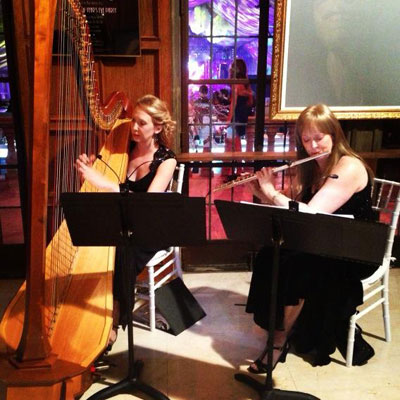 After the couple exchanged their vows it was time to party! According to Us Weekly, Hefner and Harris joined their guests — including Rascal Flatts' Joe Don Rooney, Gene Simmon and Jon Lovitz — at the joint wedding reception/annual New Year's Eve bash. The party, which lasted well into Tuesday morning, was done in an Art Deco theme, and Jazz singer Brenna Whitaker graced the party with multiple performances.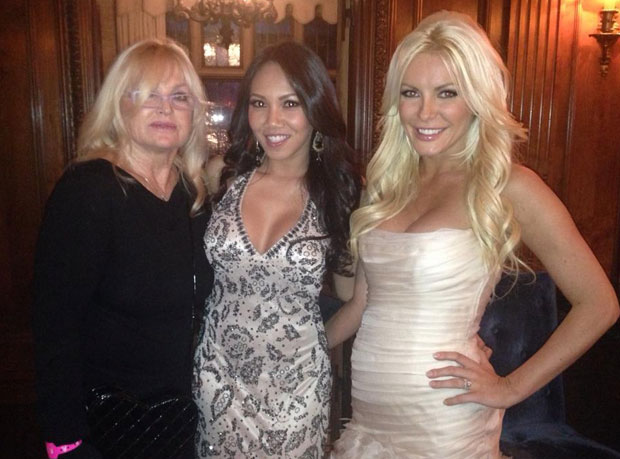 Despite the couple's rocky past, Harris stresses to Us Weekly that their marriage will last through better or worse. "When the wedding didn't work out the first time, it was because of me. I needed to explore out there and take the time away [from Hef and the Mansion]. The time away really helped make me realize that where I'm meant to be is here with Hef," Harris says. "Our relationship is better than it ever has been before. I'm very happy and Hef's very happy and we're excited.
In fact he was so excited, the magazine tycoon was the first to tweet out the debut picture of Mr. and Mrs. Hefner. "Crystal & I married on New Year's Eve in the Mansion with [brother] Keith as my Best Man. Love that girl!"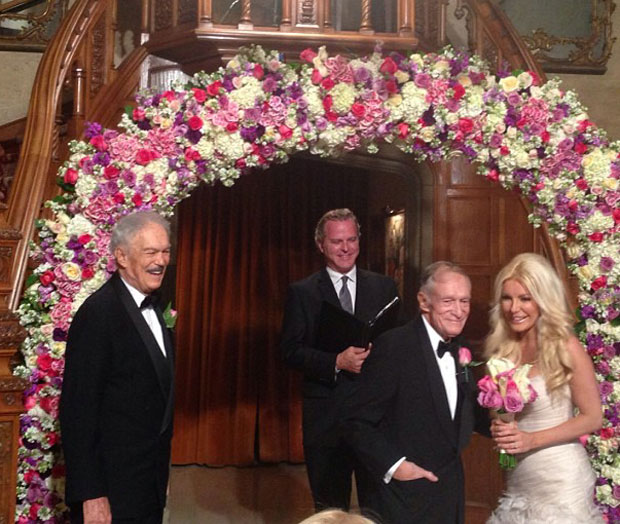 What do you think of the new Mr. and Mrs. Hefner? Were you a fan of Harris' pink gown? Bunny hop on down to the comments and share your thoughts!
Follow Leanne on Twitter @LeanneAguilera
[Photo Credit: Elayne Lodge/Playboy; Twitter (5)]
MORE:
New Year, New Rules: Our 2013 Celebrity Behavior Contract
Nora Ephron, Neil Armstrong, and Whitney Houston: In Memoriam for 2012
Babies Vs. Old Men — A New Year's Pop Culture Showdown

'American Idol' Winner Hospitalized After Head-On Car Crash

20 Hottest Bikini Bodies of 2012: Katy Perry, Miley and More!