How to Stalk Prince Harry: Our Favorite Ginger's American Tour Itinerary Announced!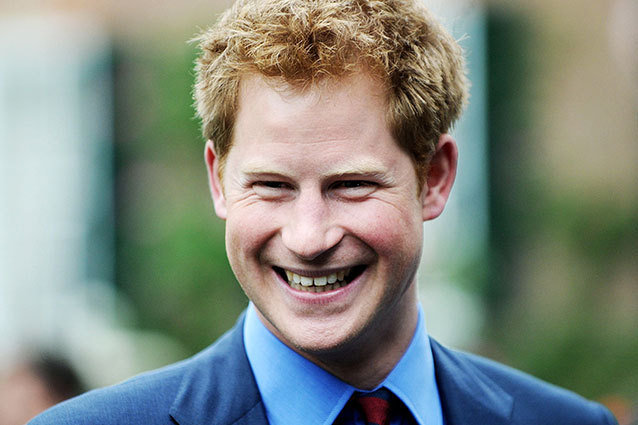 Topping the joys of finding out that your favorite band or traveling circus is making a stop in the town next to yours are those of the realization that a flaxen-haired prince might be calling upon your locale. Britain's wide-smiling, Vegas-stripping Prince Harry is heading back to the United States, as Us reports, and his representatives at St. James' Palace have announced a slew of scheduled stops.
Colorado
The prince will be making a stop in Colorado (presumably Ft. Carson) to attend the 2013 Warrior Games, a series of athletic competitions for injured service members.
RELATED: Why There Needs to Be a Prince Harry Movie
New Jersey
Harry is paying a visit to the beaches of the Garden State to lend his company to the locations most drastically affected by Hurricane Sandy.
Washington, D.C.
The Prince of Wales will be stopping by our nation's capital with two specific destinations allotted: Capitol Hill, for what Us describes as a "landline clearance exhibition" (does that make anybody else think of wire tapping?), and Walter Reed Hospital.
RELATED: What Prince Harry's New Girlfriend Can Learn from Kate Middleton
New York
In the true American spirit, Prince Harry is visiting New York City on behalf of the Royal Family's GREAT Campaign for the promotion of United Kingdom tourism, and its community baseball program.
Connecticut
Finally, the prince is capping off his trip at the Sentebale Polo Cup in Greenwich, Conn. So… way to leave on a high note, Har.
Follow Michael Arbeiter on Twitter @MichaelArbeiter
[Photo Credit: Press Association via AP Images]
---
You Might Also Like:


15 Oscar-Winning Nude Scenes


10 Insane 'Star Wars' Moments You Didn't Notice