What Prince Harry's New GF (or Anyone Looking to Date a Royal) Can Learn from Kate Middleton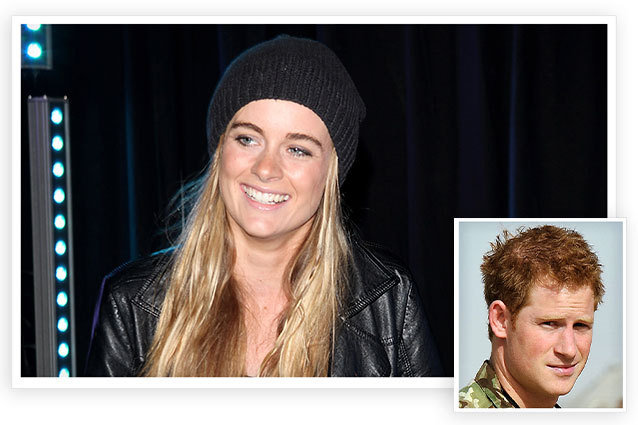 The tabs are all aslobber over Prince Harry having a new girlfriend, Cressida Bonas. And even with the admission from "a source" that it's nothing serious yet, she could certainly learn a thing or two from how Kate Middleton has long handled her very public relationship with Harry's princely brother:
1. Wear pretty clothes. Oh, you thought the Duchess just liked fashion? Well, maybe she does — who knows? Do we really know these people at all, despite the gobs of ink spilled about them? We don't. But we do know a heck of a lot about what Kate wears, and that distracts us, because we like pretty, shiny things. (See how obsessed we are with Kate's maternity wardrobe, and for good reason?) Give the crowds a fantastic outfit, a photo op, and they're happy. Given that Bonas is gorgeous, this should be easy.
2. Make sure your extensive wardrobe is the most controversial thing about you. Vivienne Westwood, for instance, recently criticized Middleton for not recycling her ensembles enough. Hey, it's better than pics of you sans wardrobe taking up column inches, as both Kate and Harry can attest.
RELATED: Why There Needs to Be a Prince Harry Movie — But Not Now
3. Know you kinda can't win. Novelist Hilary Mantel gave a controversial speech a few weeks ago calling Middleton "a jointed doll on which certain rags are hung" and "a shop-window mannequin with no personality of her own." Though many columnists and even public officials rushed to Middleton's defense against Mantel, the novelist was actually expressing sympathy for the women who join the royal fold, saying they don't get much autonomy. Proof that people are going to be haggling over your every quality — and lack thereof — as soon as you take up with a prince, no matter what you do or don't do.
4. Get a great hat. When great clothes aren't enough, a crazy hat will always do.
5. Prepare your family for instant stardom. Just ask Pippa.
Hollywood.comcorrespondent Jennifer Keishin Armstrong is the author of two forthcoming books, Sexy Feminism (due out in March) and Mary and Lou and Rhoda and Ted, a history of The Mary Tyler Moore Show (due out in May). For more information visit JenniferKArmstrong.com.
Follow Jennifer on Twitter @jmkarmstrong 
[PHOTO CREDIT: Getty Images; Wenn]
---
From Our Partners:


25 Forgotten Celebrity Crushes of the '90s (Vh1)


30 Stars Who Have Gone Topless (Celebuzz)