Is Prince Michael on the Jackson Road to Fame? First Stop, 'Entertainment Tonight'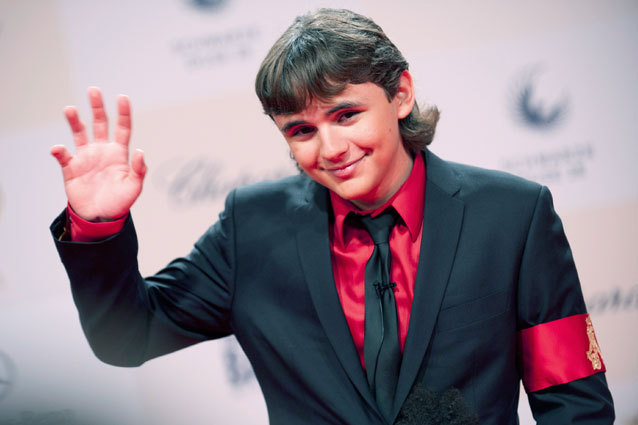 Michael Jackson worked so hard to shield his three children from the press that one of them ended up with the nickname Blanket — because he appeared in public with a blanket loosely covering his face. Jackson even used to have the kids wear masquerade-style masks when he took them out to keep them unrecognizable. So it came as a surprise when the late superstar's oldest child, Prince Michael Jackson, was officially named a correspondent for Entertainment Tonight on Monday. The 16-year-old's first assignment was covering the OZ the Great and Powerful junket for the syndicated entertainment show.
The new job is just more proof that Jackson's intense protection of his kids has only had the inverse effect of making them more intriguing; there's no doubt the show wants to attract viewers curious about Jackson's progeny. (Remember how obsessed everyone was with Paris Jackson after she spoke at her father's funeral?) And while Prince Michael is at least older than his father was when he first experienced fame, he's still keeping up the family tradition of diving into Hollywood at a precocious age.
RELATED: Jackson Family Drama: A Timeline to Clear Up the Controversies
Then again, if the kid wants to do something showbiz-related for a living — he told ET's Brooke Anderson that he wants to be a screenwriter, director, producer, and actor — he should certainly grab the opportunity to learn more. He does have a grounded, mature screen presence. And this is clearly better than your average after-school job.
RELATED: Jackson Family Drama: Nephew Named Guardian, What's Going On? — Video
Check out the video below: 
Hollywood.com correspondent Jennifer Keishin Armstrong is the author of two forthcoming books, Sexy Feminism (due out in March) and Mary and Lou and Rhoda and Ted, a history of The Mary Tyler Moore Show (due out in May). For more information visit JenniferKArmstrong.com.
Follow Jennifer on Twitter @jmkarmstrong
[Photo Credit: Paul Zinken/AP Photo]