Psy, Keep Your 'Gangnam Style' Out of D.C.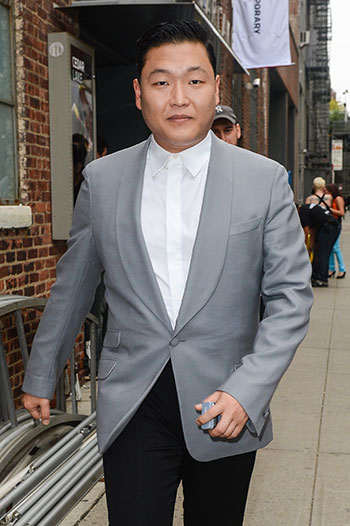 [UPDATE: Psy has issued a exclusive statement of apology to MTV, stating that the song in question "was part of a deeply emotional reaction to the war in Iraq and the killing of two innocent Korean civilians that was part of the overall antiwar sentiment shared by others around the world at that time … I've learned there are limits to what language is appropriate and I'm deeply sorry for how these lyrics could be interpreted." Given the visibility and preciousness of a holiday celebration with our president, Psy's participation continues to seem inappropriate, however, it is a comfort to know that the singer regrets his former actions.]
America is suffering from a disease. Everyone, from the cast of Glee to former U.S. Senator Alan Simpson, has come down with a serious case of "Gangnam Style." And now, K-Pop star Psy is trying to bring his famous, loping, saddle-sore jig to the annual Christmas in Washington concert, attended by President Obama, according to the U.S. Embassy in Seoul. There's just one small snag in that plan: Psy's got a well-documented history of spouting Anti-American lyrics and participating in Anti-American protests. It's clear that the Korean pop star's invite should be rescinded immediately.
And that's exactly why a few agitated Americans decided to take action Friday, posting this petition to the We the People section on the White House website, urging President Obama to take back his invite to the galloping singer/rapper. The brand new item is gaining signatures rapidly as it spreads across social media. [UPDATE: WhiteHouse.gov has since removed the petition because the Obama administration is not involved with booking performers.] As it turns out, the petitioners may be pointing their anger in the wrong direction, but their motives aren't misplaced. In October, CNNi posted a report about Psy and his past performance of "Dear America," a song in which he raps about killing Americans "slowly and painfully." The lyrics in question are reportedly translated from Korean to English as follows: Kill those f**king Yankees who have been torturing Iraqi captives
Kill those f**king Yankees who ordered them to torture
Kill their daughters, mothers, daughters-in-law, and fathers
Kill them all slowly and painfullyWhat's more is that Psy performed the song along with the band NEXT and other Korean artists at an Anti-American protest in response to the beheading of a Korean missionary in Iraq in 2004, according to Korean news organizations like Chosun.com. While the protest wasn't a blanket Anti-America party, the performer did publicly advocate violence against Americans with those lyrics. This man does not belong at a celebration with the American President in our capitol.
And if his use of violent words disparaging the U.S. (and his bastardization of the rap genre) isn't reason enough, the potential for backlash at Obama and his administration, should the entertainer be allowed to perform and (as he promised) teach our president his drunken equine dance, is unfathomable, regardless of his involvement in the booking process. Let us think back to 2010, when Michelle Obama invited rapper Common to the White House for a poetry reading. Dissenters came out of the woodwork, taking issue with Common's "controversial lyrics" claiming that his song "A Letter to the Law" contained death threats to former President George W. Bush. This outrage was sparked by one of the least controversial rappers in music – how would Obama's detractors react if he cavorted with a man whose anti-American stance is this widely reported?
In fact, our months-long national obsession and outpouring of dollars (New York Magazine recently estimated his YouTube revenue at over $1.7 million and his digital download revenue at $243,720) is embarrassing in light of this news (and because it suggests a severe lack of musical taste on the part of the American public, but let's not go down that road). Our nation has danced Psy's dance and repeated his lyrics ad nauseum, letting them pervade our bank of pop culture catch phrases. Do we not feel duped? Does our senseless fun not now bear a pall of dishonor? If loving a song is like a relationship, Psy has been cheating on his American fans for at least eight years. And his mistress? Entire crowds of people whose favorite songs are all about how much they hate us. If America was a teenaged girl, we'd be expected to be crying our eyes out to a Taylor Swift breakup tune right about now. 
"Gangnam Style" may be an unavoidable fixture of 2012 pop culture history, but that doesn't mean it has to continue. It happened, it doesn't have to happen again. Yes, Obama is the "cool" president. He likes jazz, inspires memes, and even
participates in them on occasion
, but that doesn't make us the unconditional Internet nation. And besides, Psy's past isn't "cool" by any stretch of the imagination. Besides, is "Gangnam Style" even worth it? Kick that Psy guy to the curb, and make sure he knows that we (eeee) are never (ever, ever, ever) getting back together, America. [Photo Credit: Ray Tamarra/Getty Images]
More:
'Glee' Recap: Sectionals, Slaps, and Second Chances
The Best and Worst Moments from the AMAs
Ohmigod Internetz! The 15 Best Memes of 2012
From Our Partners:

Kim Kardashians Best Bikini Moments (PHOTOS)

Brooke Mueller Overdose? Rep Speaks About New Drama For Charlie Sheen's Ex