Rachel McAdams Should Get Pregnant ASAP! PIC
Professional cute person and perpetual-26-year-old, Rachel McAdams is making a movie! And she's pregnant in the said movie. And her pregnancy is also— TWIST! — adorable. Word on the street is that McAdams is sporting a bump for only half the time though, as the movie — DOUBLE TWIST! — has her playing dual roles! Say what? Yep! Two parts, one film. This woman can literally do anything. The photo, taken on July 4th in the romantic-and-chic Notting Hill neighborhood of London, makes it look like McAdams is on her way to the hospital.
The new film About Time is being directed by British screenwriter Richard Curtis who is known for such romantic comedy staples as Four Weddings and a Funeral, the never-not-good Bridget Jones's Diary, the can't-not-watch-it-if-its-on favorite Notting Hill, and the holiday feel-good-time Love Actually. I was going to write more about this, but I mean, look at her! This woman needs to be a mom (if she wants, totally no pressure from this stranger because that would be really weird and creepy) someday!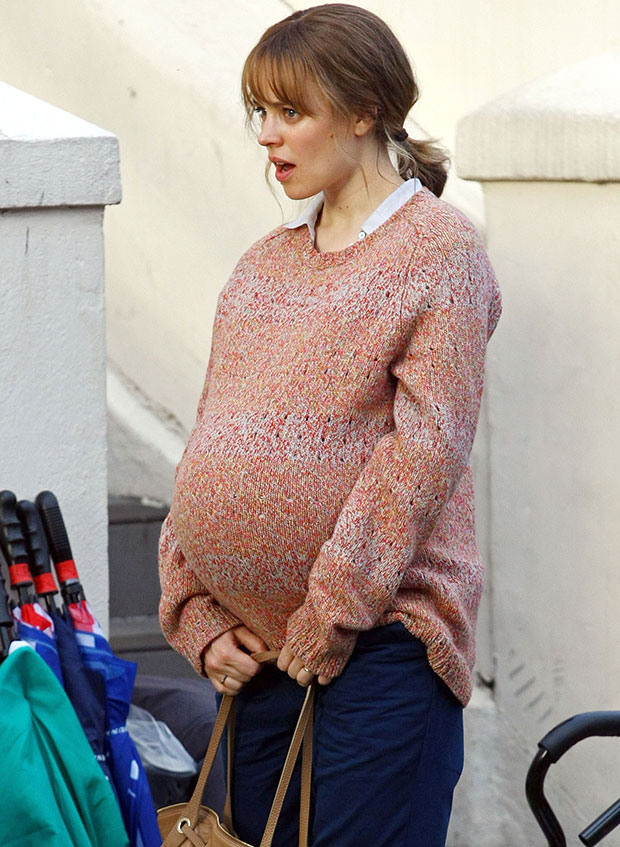 What do you think about the premise of About Time? Will you see it when it comes out? Are you curious about Rachel McAdams' dual roles? Let us know in the comments!
[Photo Credit: WENN.com]
Follow Alicia on Twitter @alicialutes
More:
Rachel McAdams and Channing Tatum Talk Tearjerkers, Tree-Murder, and More
Rachel McAdams Might Join 'Holmes' Costar Noomi Rapace in Brian De Palma's 'Passions'