Ramona Singer and Countess LuAnn Are Still Fighting About Blackmail Allegations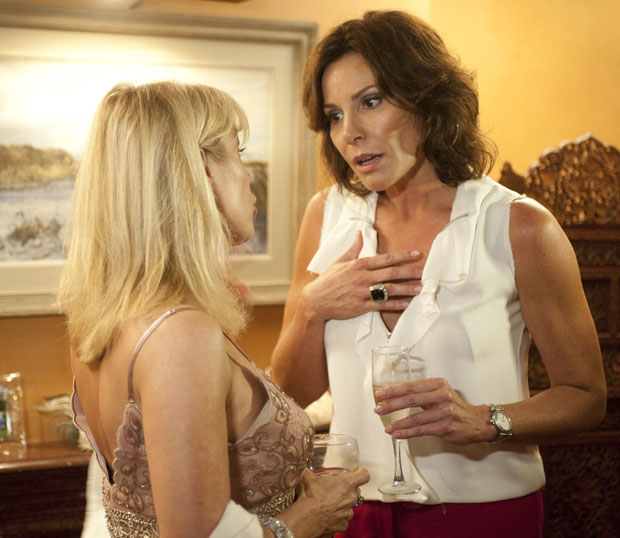 We might have seen a whole new cast on the premiere of
Real Housewives of New York
, but there were still plenty of old battles raging between veteran cast members Ramona Singer and Countess LuAnn de Lesseps (Queen of Crackerjacks). And they're blaming each other for the fight. Oh, birds fly, bees buzz, fish swim, and Real Housewives argue, and blame each other. If you are surprised by this, then you should probably go watch more reruns of
SVU
and forget these shrieking banshees altogether.
Anyway, on the episode LuAnn approached Ramona seeking an apology for when Ramona called her a bad mother. Ramona did not want to apologize. Do you ever watch something and it makes total sense and then you have to explain it to someone and you feel like a total idiot? That's sort of how I feel about this.
"I thought it was over! I can't believe she just brought it out in the room. On the reunion, we toasted together with a glass of pinot grigio, and I apologized to her," Ramona tells Hollywood.com.
Watching the premiere, LuAnn says she was not shocked that Ramona wanted to walk away: "It's the usual Ramona. Instead of doing the right thing, she just opted not to. You can only ask for something. You can't make somebody do anything. I just let her know how I felt. I wasn't that surprised. It's her usual reaction."
Later in the episode, LuAnn told the three new castmembers, Aviva Drescher, Carole Radziwill, and Heather Thompson, that Ramona called her up and blackmailed her, saying that if she didn't stop asking for an apology then Ramona would tell everyone that a teenager got drunk and passed out in her bushes. Yes, again, I feel like a jerk for making you read that.
"I wanted [the new cast members] to know what she was up to, because I was really upset about it. I wanted them to know that this is what this woman was trying to do to me," LuAnn says.
Ramona denies that the phone call ever happened. "That was all fabricated. There was a phone call before we were filming. I said, 'LuAnn, let's try to get along this season. And don't push my buttons. Because if you push my buttons, I can't be responsible for what's going to come out'…Everyone knows everything about her kids. It's all out there. Hello!"
This isn't the last we'll hear of this fight. "There is going to be a duel coming up," LuAnn says. "I can take Ramona on with my hands tied behind my back."
Why can't these two just put it aside and get a new fight? Find some new slights and gripes to entertain us, because if we have to hear about this for the rest of the season, then I'm going to go drown myself in Jill Zarin's golden bathtub. Birds buzz, bees swim, fish fly, and the vicious cycle lives on and on.
Reporting by Lindsey DiMattina