'Real Housewives' Adrienne Maloof Dating Rod Stewart's Son, 32: Bravo or Boo?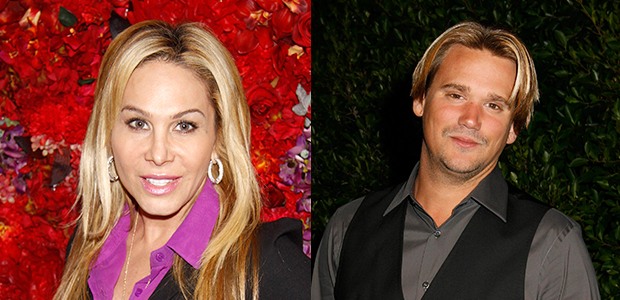 Real Housewives of Beverly Hills star Adrienne Maloof, 51, is doing her part to help the cougar movement. The newly single star has admitted she's dating Rod Stewart's 32-year-old son, Sean Stewart. "This started as a business relationship and now we're casually dating," she told People magazine, stressing that "It's casual, real casual."
For his part, Stewart also confirmed the relationship, telling TMZ, "I'm very happy … She's a very very very good lady" and that anyone who criticizes their age difference is just sexist. After all, the May-December romance is commonplace for men, so why is it wrong for a woman? Remember, of course, that Sean's music icon dad Rod, 68, is married to 41-year-old model Penny Lancaster. (And his sister Kimberly, 33, had the world's most surprising secret affair with Benicio del Toro, 45, and had his baby.)
So, what do you think, fans? Are we loving or loathing this new relationship? Stewart has definitely proven himself to be a bad boy. He famously battled substance abuse problems on Celebrity Rehab With Dr. Drew and starred on his own reality TV show, Sons of Hollywood. And he's had numerous brushes with the law, including assault charges and being accused of stealing his ex-girlfriend's car in 2008 after their relationship ended. 
Still, he could make for some good TV if he ends up appearing on RHOBH. Imagine the fireworks that could be had between him and Brandi Glanville!
[Photos: Wenn]
More:
'Real Housewives of Beverly Hills' Recap: Brandi Glanville Is Not Having It
'Real Housewives of Beverly Hills' Recap: The Moral Corruption of Faye Resnick 
'Real Housewives of Beverly Hills' Recap: Adrienne Maloof Has Got a Secret

J. J. Abrams and 'Star Wars': Has the Lightsaber Been Passed to the Right Director?