'Real Housewives of Beverly Hills' Star Adrienne Maloof Finalizes Divorce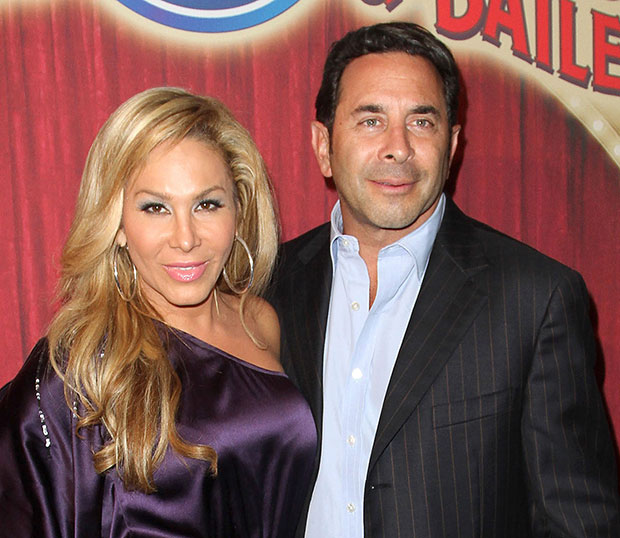 Every season of The Real Housewives of Beverly Hills starts with a tragedy. Since we all know the inevitable conclusion, we get to watch the action unfold as the women are brought to their destiny. Season 1 it was Camille Grammer's divorce, Season 2 it was Taylor Armstrong's divorce (and her husband's subsequent suicide), and Season 3, which just debuted on Monday, is going to be all about the the fractures in Adrienne Maloof's relationship with her husband, Dr. Paul Nassif.
As we're watching them get closer and closer to the brink on the tube, they've already come to a settlement in their divorce in real life. The two aren't disclosing the details of their deal, but their rep has confirmed that they have one. "There has been so much untrue negative innuendo and destructive rumors beyond our control," the couple said in a statement. "We want the best for each other and we're confident we can help each other make a continuing positive impact with our children … Our goal is for our children to have stable and nurturing relationships with both of us so we can all find as much happiness as possible."
That seems ironic considering just a month ago, Maloof was making claims that Nassif abused their three children, claims that turned out to be false. I must say, I'm glad things ended neatly and without further unfounded messiness or allegations of wrongdoing. After all, when it comes to the Housewives, we want all of the drama to be on camera.
Follow Brian Moylan on Twitter @BrianJMoylan
[Photo Credit: FayesVision/WENN]
More:
'RHOBH' Star Adrienne Maloof's Husband Files for Separation
31 Amazing Reasons To Be Excited About the New Season of 'Real Housewives of Beverly Hills'
'RHOBH' Star Lisa Vanderpump's Infamous Mansion Consumed by Flames
From Our Partners: