Home
Celebrities
Recovering from Head Injury, Kristin Chenoweth Starts Dating 'Bachelor' Star Jake Pavelka
Recovering from Head Injury, Kristin Chenoweth Starts Dating 'Bachelor' Star Jake Pavelka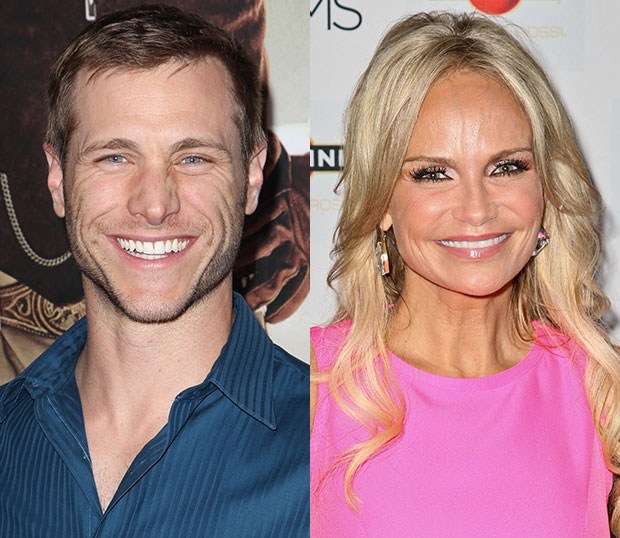 Oh Kristin. Kristin, Kristin, Kristin. Cheno-what is going on in your head right now? Listen, I know you had a bit of a cranial woopsie on-set at The Good Wife, so I'm going to give you the benefit of a doubt, but seriously—Jake Pavelka? Seriously?
That's right, America's favorite tiny blonde person, Kristin Chenoweth, is reportedly seeing the former The Bachelor contestant, according to People. They're dating! This can't end well, can it? "We have been spending a little time together," Chenoweth explained to the magazine. The two met at an event in back in October of this year, and the two have been seen out and about (you know, by those people that actually see celebrities "out and about") in West Hollywood and Texas. Sounds like a real continental romance! Now, "A lot of people know that I got hurt in July," explains Chenoweth of the head injury she suffered while filming the aforementioned The Good Wife, but could that be the reason why Chenoweth would spend time with the notoriously fame-whorey Pavelka? While she says that she is doing better, and that the accident forced her to slow down and realize the important things in life, we can't help but wonder if a lil bump on the head is what's causing this ruckus.
For those uninitiated in the ways of Mr. Pavelka, allow us to introduce you to the fellow hoping to stay on Chenoweth's arm. Pavelka first appeared on the scene as a contestant in the fifth season of ABC's The Bachelor spin-off, The Bachelorette. After being eliminated from the competition, he was recycled in that classically Bachelor/Bachelorette way and was dubbed the series' fourteenth Bachelor, where he proposed to total wackadoo Vienna Girardi.
After the couple's very public split in June 2010, you'd think Pavelka would be over the reality scene. But oh, no, no—that's where you're wrong. After the split, Pavelka joined the cast as a celebrity on Dancing with the Stars, where he was the fifth eliminated contestant. But don't fear! Pavelka knew that the world needed more of his smarmy dude demeanor, so he joined the second season of Bachelor Pad (where Bachelor/Bachelorette contestants are allowed to be as horrible as they want to be, for a cash prize!), as well as VH1's reality show, Famous Food. Then he really upped the ante and appeared in an episode of CW's super-short-lived reality show called (wait for it) H8R.
Not to completely escape from the spotlight, though, Pavelka decided that ladies were begging for a chance to see him thrust in some skivvies, so from February to March 2012, he joined the Chippendales show in Las Vegas as a "celebrity guest host," whatever that means.
Here's some evidence of this man's general absurdity:
So basically what I'm saying is this: be careful, Chenoweth, or you, too, may end up as fodder from which this man can birth another six months of relevancy and reality TV appearances. You deserve better, girl!
[Photo Credit: WENN]
Follow Alicia on Twitter @alicialutes
More:
Love By Numbers: The Big 'Bachelor' Breakup Barometer
Kristin Chenoweth Departs 'Good Wife' After Injury
'Bachelorette' Couple Ashley Hebert and J.P. Rosenbaum: Married!

Inside 'Bachelorette' Stars Ashley Hebert and J.P. Rosenbaum's Wedding — EXCLUSIVE DETAILS

Mario Lopez, Courtney Mazza's Wedding Pictures Revealed!