EXCLUSIVE: 'Mike & Molly' Co-star Reno Wilson Is A Bad Mutha… (Shut Yo' Mouth!)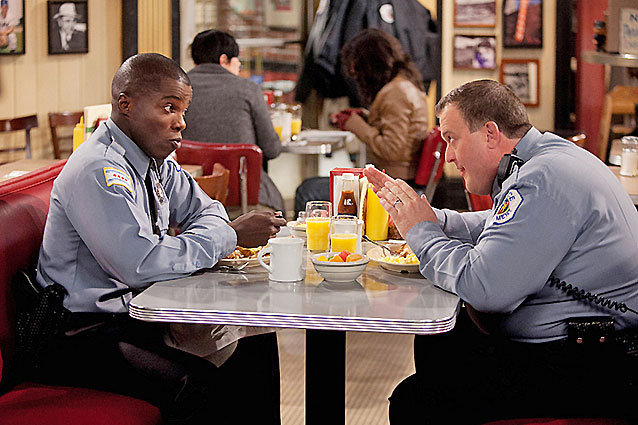 Jaimie Trueblood/Warner Bros
Reno Wilson may be EVEN funnier in person. The hilarious actor dishes about life on the set of Mike & Molly, his role as Officer Carl McMillan and what he has in common with Jennifer Aniston, while keeping us laughing the entire time. One of the most fun interviews we've ever had!
Reason 1: Reno started our chat with some beat-boxing magic.
So Molly has decided on a career change: next up she'll be a writer and will conduct a ride-along. Can you give us a sneak peek as to how the ride-along goes awry?
You didn't even ask. You just knew it was going to go awry! It's uncomfortable for Mike because it kind of invades his personal space. Let's be honest, the squad car is like his own personal therapy couch. Now she's in the picture. This season you're going to see a lot more police work. This is actually the first time she rides along, and she sees something happen. Nothing serious for Mike and Carl, but it doesn't bode well with Molly. It's glass, glass and somebody's ass…Can I say that?
With all of the extra police work, will we see any guest stars? Anyone you'd like to guest star this season?
We do, we do. I always wonder why his grandmother raised him. What happened to his parents? I would love it if Richard Roundtree played my dad. I want Shaft to be my dad. I was at a function a couple months ago, and that is one good-looking man. I said that to him and he said, 'Takes one to know one.' I came home and told my wife, "Hey baby, Shaft said I'm good looking," and she said, "Shut your mouth," and I said, "I'm just talking about Shaft."
Reason 2: Reno then schooled us on our non-existant knowledge of Shaft and proceeded to sing Isaac Hayes' Oscar-winning theme song to the '70s blaxploitation classic. 
Do you all hang out outside of work?
Yeah! We're pathetic! We can't see each other enough. Billy and I have known each other for 9 years. Our kids play together. We go to birthday parties, holiday parties.
Do you have any comedic freedom on the show?
Our scripts are so tight. I speak kind of fast on the show, but I think the rhythm of our show is fast. We stay tight, tight, tight on the script.
How is it working on the set?
I gotta tell you, our set is the most thankful, grateful group of people you can be around. This is the best set I've ever been on. We're on the old Friends stage. We're still trying to figure out whose dressing room we're in. I think I'm in Matt LeBlanc's room. None of us know, but we're all trying to figure it out.
Trivia Fact: Jennifer Aniston and I graduated high school together: same year, same class, same school Performing Arts High school, 1987. Soon I'll be known for my haircut this season, and everybody will be getting the Carl.
Reason 3: Watch the show to find out!