Home
Celebrities
Rest Easy, Justin Bieber Fans: The Murder Plot Against Him was Thwarted
Rest Easy, Justin Bieber Fans: The Murder Plot Against Him was Thwarted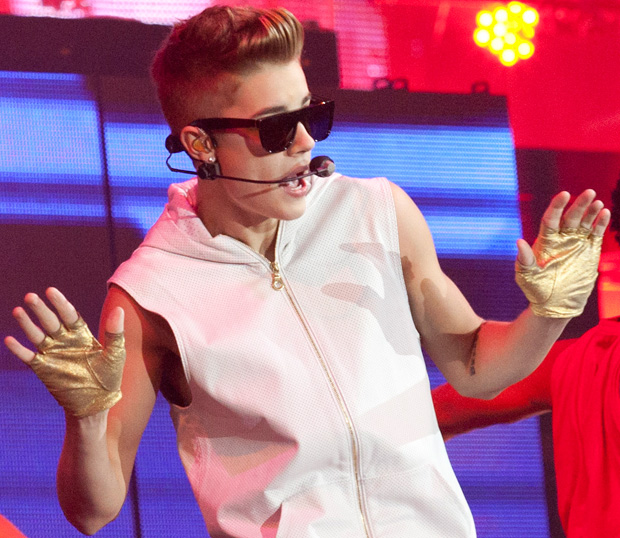 Well somebody seems to have contracted a deadly strain of Bieber Fever, huh? According to KRQE News in Albuquerque, wo men out of New Mexico named Mark Staake and his nephew Tanner Ruane were arrested Wednesday for being the would-be hitmen in a plot to take down the tween sensation during his concert last month at Madison Square Garden in New York.
But if you think that's all of the story, you'd be sorely mistaken. This would-be caper has several parts: including the murder and (wait for it) castration of two other individuals in Vermont prior to the same fate happening to Bieber and his manager. However, Dana Martin—the prison inmate/convicted murderer currently serving two life sentences with the Justin Bieber leg tattoo—decided to thwart his very own plan for reasons currently unknown, and told the police about the whole scheme. Now, be sure to really take a moment and let that detail sink in: a male prison inmate with a tattoo of Justin Bieber's face on his leg. You good? OK. Martin explained to police that the plan involved Staake strangling the victims with a paisley tie—the kind Martin used as his calling card before being caught for being a crime-committing murderperson—and Ruane castrating them immediately afterwards. Yikes.
In the end, Staake was arrested in Vermont on outstanding warrants before he was even able to carry out any of the killings, and Ruane was let go. Ruane later made it to New York, only to be disappointed when Martin called the whole thing off. Reports claim that recorded phone calls between Martin and Ruane portray him as very disappointed about the change in plans.
Jokes aside, it must be really strange to be Justin Bieber, don't you think? His fans are ravenous, he's an international superstar AND he's Canadian—that's a lot to handle on a daily basis. Add avoider of murderous plot to that list? Well, now you've really gone and had yourself a day, haven't you, Justin?
Hollywood.com has reached out for comment, but had not heard back at the time of publication.
[Photo Credit: WENN]
Follow Alicia on Twitter @alicialutes
More:
Turns Out, Canada Is Sick of Justin Bieber, Too
Justin Bieber Can Vomit and Sing Simultaneously — VIDEO
Justin Bieber and Selena Gomez Become One of Those Annoying On-Again, Off-Again Couples

'The Hobbit' Cast: A Who's Who New Character Guide (Moviefone)

'Les Miserables' Unscripted: Hugh Jackman, Anne Hathaway On Singing And Being Modest