Revealed! Megan Fox Unfairly Skinny, Sexy 10 Weeks After Baby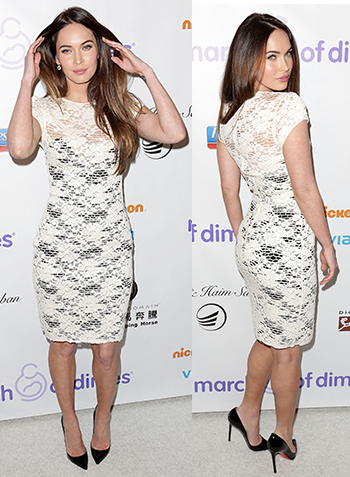 Megan Fox is the girl who everyone loves to hate in Hollywood: freakishly genetically blessed yet often seen as rude or clueless because of her blunt honesty. (Remember her crazy Michael Bay tirade?)
Well, Anti-Foxites, get ready to hate her even more. 
The This Is 40 and Transformers star made her first red carpet appearance just 10 weeks after the birth of her son, Noah Shannon Green, at a March of Dimes event in Beverly Hills on Friday.  
And the 26-year-old Armani underwear model and actress looked hot. Really unfairly hot. 
After weathering some criticism for being too thin in recent years, it seemed like all of that pesky pregnancy weight miraculously migrated into just the right places. 
But don't expect her to be flaunting it onscreen anymore. Fox told the UK's Mirror recently that having little Noah (with husband Brian Austin Green) has transformed how she views her job. 
"It changes your perspective about being overly sexual in a film when you have a baby," she said. "I'm going to be more cautious about choosing films because I'm already thinking about when he's in school and his friends are going to be showing him my photo shoots with me in a bikini and he's going to be horrified."
[Photo Credit: WENN]
More: Megan Fox and Brian Austin Green: Revenge of the Nerds? (PHOTOS)
Megan Fox Opens Up About Being a Mom
From Our Partners:

Kim Kardashians Best Bikini Moments (PHOTOS)

Brooke Mueller Overdose? Rep Speaks About New Drama For Charlie Sheen's Ex