Review: 'Book A Trip' With '60s Psych-Pop Rarities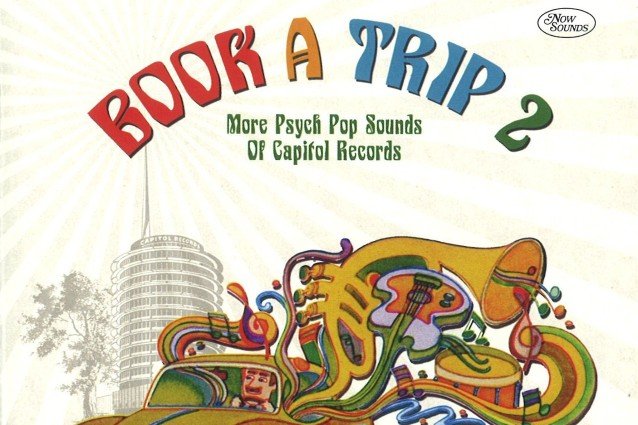 Now Sounds
Though Capitol Records had its share of hits with West Coast-based '60s pop acts, from The Beach Boys to the Linda Ronstadt-fronted Stone Poneys, there's a whole "hidden" history of the era's psych-pop/soft-pop sounds lurking beneath the surface. And that's exactly what Now Sounds is documenting with Book a Trip, which has just turned into a series with the release of Book a Trip 2: More Psych Pop Sounds of Capitol Records.
For anyone with a fondness for the sort of heavenly vocal harmonies, harpsichord-laden neo-baroque arrangements, and flower-power sensibilities that abounded in mid-'60s L.A., this 24-track compilation ought to be a no-brainer. But hardcore record geeks whose mission it is to mine the meaty underbelly of music history will salivate in a Pavlovian fashion over the esoteric riches on offer here. That's "esoteric" in terms of public acclaim, by the way, not aesthetics — pretty much every single track on here could/should have been a hit, though a handful have never even been released before.
Even when the members of a cult act like West Coast Pop Art Experimental Band appear here, it's in the guise of their far lesser known alter ego Laughing Wind. But the roll call of great "lost" psych-pop stars manqué is as rewarding as any '60s hits collection, and it fills in some fascinating bits of history to boot. Ellie Jango, daughter of primal scream therapy creator Arthur Janov, found time to record the Cat Stevens/Kim Fowley-penned gem "Portobello Road" before becoming an actress. The Surf Symphony was a studio-only ensemble that took the term "orchestral pop" very literally, bringing together members of L.A.'s crack pop/rock session team The Wrecking Crew and players from the L.A. Philharmonic for the thrillingly ambitious instrumental "That Bluebird of Summer." Around just about every corner on Book a Trip 2 there's another entrancing psych-pop mystery waiting to be discovered.