Rex Ryan's Mark Sanchez-Tim Tebow Tattoo: Crazier Than These 14 Celeb Tats?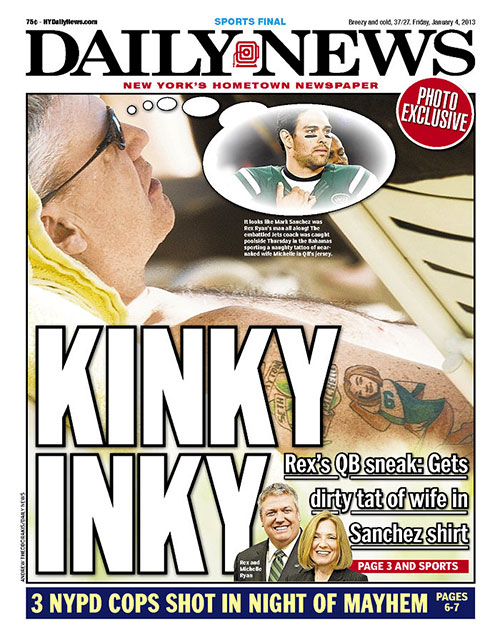 Poor Rex Ryan. Just as we were beginning to forget the embarrassing foot fetish video that found its way on the Internet in 2010, the New York Jets coach was photographed with new ink that seems straight out of a future Hangover movie. While on vacation in the Bahamas, a New York Daily News reporter snapped a picture of Ryan with what appears to be a tattoo of his wife, Michelle, wearing a Mark Sanchez jersey, striking a Tim Tebow pose.
The hodgepodge of football references is confusing enough, but the choice of ink is even more confounding considering Sanchez's failure as a quarterback and rumors that Tebow will be leaving the Jets. Of course, that's providing the tattoo equivalent of a sad trombone is actually real.
But where does it stack up among other crazy celebrity tattoos? Check out our gallery of 14 crazy star tats, and, remember, don't drink and ink.
[Image Credit: New York Daily News]
More:
'Glee' Star Lea Michele Has 14 Tattoos — VIDEO

'Buckwild' Stars Talk 'Jersey Shore' Comparisons: 'I Ain't Paying For No Tan' (EXCLUSIVE VIDEO) (Celebuzz)

Oscars 2013: Best Picture Race Is Down to 'Lincoln' Versus 'Zero Dark Thirty' (Moviefone)