Richard III's Bones Identified Right as 'House of Cards,' Based on Richard, Debuts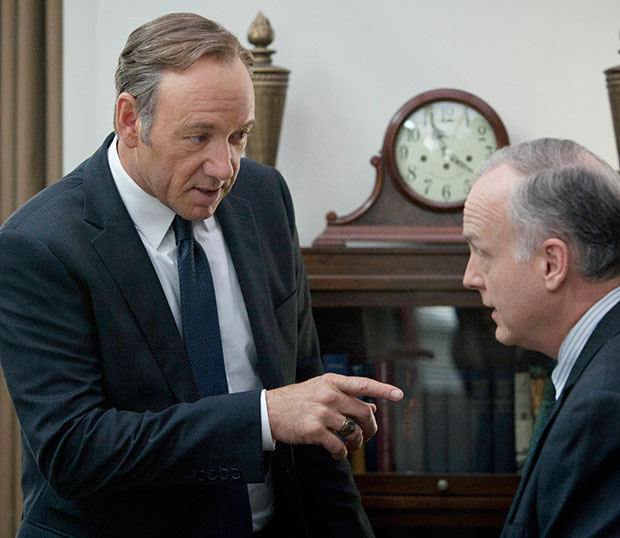 An archaeologist! An archaeologist! My marketing team for an archaeologist!
Rarely is a team of artifact hunters the unwitting extension of a studio publicity team. But Netflix's House of Cards, the new political thriller produced by David Fincher and Beau Willimon about a Machiavellian pol (Kevin Spacey) who seeks to catapult himself into power via any shady means, got a major PR assist Monday when a group of U.K. archaeologists announced that they've located and identified the bones of King Richard III. So… wait, what's the connection? Well, House of Cards' central character, Spacey's Frank Underwood, is actually based on Richard. Which means that by early afternoon on Monday, "Richard III" was trending heavily on Twitter, even holding its own against multiple Super Bowl-related hashtags.
RELATED: Kevin Spacey Glowers in new 'House of Cards' Trailer—VIDEO
Obviously, Fincher and Willimon could never have anticipated that this news would hit three days after their miniseries debuted. Freud may have said that there are no coincidences, but then something as serendipitous as this happens. It's like how the Manti Te'o fake girlfriend scandal broke right after the launch of MTV's Catfish: The TV Show, and suddenly "catfishing" became the most notable new gerund to enter the pop culture lexicon in 2013. Or, to use a sadder example, how the new documentary about Ed Koch premiered the very day the former New York mayor died and suddenly became a memorial film. Interest in the Les Misérables 25th Anniversary Concert, not to mention plans for a big-screen adaptation, got a major assist when the previously unknown Susan Boyle rocketed to YouTube celebrity in 2009 with her Britain's Got Talent rendition of "I Dreamed a Dream." And Paris Hilton's pursuit of fame got a sizable boost when her infamous sex tape hit the Interwebs shortly after the debut of her Fox reality show, The Simple Life. Okay, Freud might have been right about that last one. Can there be coincidences where Paris Hilton is concerned?
Still, it's pretty incredible that a monarch who died before Columbus discovered America has left such a lasting footprint on pop culture. Richard III is England's most maligned king. And yet he sat on the throne for only two years before being defeated and killed at the Battle of Bosworth in 1485, an event usually considered to be the end of the Medieval Age in England. His successors, the Tudors, would paint him as a vile monster. They suggested he undermined the rule of his brother King Edward IV, then had his nephews locked in the Tower of London and eventually killed, in order to obtain the crown himself. William Shakespeare contributed to the propaganda by depicting Richard as a hunchbacked child-killer, whose ultimate fate was a kind of karmic payback. The Bard portrayed Richard as a model of terrible statesmanship, and pretty much the standard to which any storytellers depicting the pitfalls of power — including the team behind House of Cards — aspire. Richard has been directly portrayed in numerous plays and movies, including in a career-best turn by Laurence Olivier in 1955 and House of Cards' own Kevin Spacey in a recent mounting of the Shakespeare play at London's Old Vic.
RELATED: Netflix Plans Full Season Release of 'House of Cards': Is Traditional TV Viewing Over?
Some, though, feel that Richard has gotten a bad rap. His defenders say he was the target of a Tudor smear campaign and that his detractors today unfairly judge him by the standards of our time. Compared to other medieval rulers, however, his behavior wasn't that far from the norm.
Richard's bones were discovered in September in a coffin-less grave six feet under a parking lot in Leicester, England, about 20 miles from the site of the Battle of Bosworth, and exactly where Tudor historians said he was buried. Though the identity of the remains was only confirmed on Feb. 4 following DNA comparison tests with two descendants of Richard's House of Plantagenet, all of the other evidence pointed to him being the king. The bones were definitely from a man in his late 20s or early 30s, and we know Richard died at the age of 32. They were also carbon dated to between 1455 and 1540 and showed signs of the individual having possessed a diet rich in meat and fish, indicating that he was noble-born. The skull had a severe gash along its back, consistent with the historical account of the killing blow that claimed Richard's life — Shakespeare imagined him being killed after losing his mount, thus leading to the immortal cry, "A horse! A horse! My kingdom for a horse!" Most importantly, it turns out Shakespeare was right, after all: the skeleton's spine featured a severe case of scoliosis, meaning that Richard was indeed a hunchback.
RELATED: Late Night Last Night: Kevin Spacey Does a 'Brilliant' Impersonation of Al Pacino
Follow Christian Blauvelt on Twitter @Ctblauvelt
[Photo Credit: Melinda Sue Gordon/Netflix]
---
You Might Also Like:

Biden? Ford? Surprisingly Hot Young Pics of Politicians

Who Wore This Crazy Hat?

Stars Who Changed Their Look After Love