Rick Pitino Is Having the Best Week in Human History
When Rick Pitino woke up this morning, he was greeted by a team of cartoon bluebirds (or maybe cardinals would be more apt), merrily escorting him to the rainbow walkway that would lead him through town on a sunny stroll as the villagers sang his name in a well-rehearsed ditty about heroism. Life, for our dear Long Island native, is good.
Yes, while these past few days might have seen a bounty of triumphs all across our world — spanning from BAFTA nominations to WrestleMania wins — nobody woke up Tuesday morning with a bigger smile than Ricky Pits. And while the rest of us would love to resent that lucky bastard for all the good fortune he's undertaken, we can't bear to hate him. Just… just look how happy he is.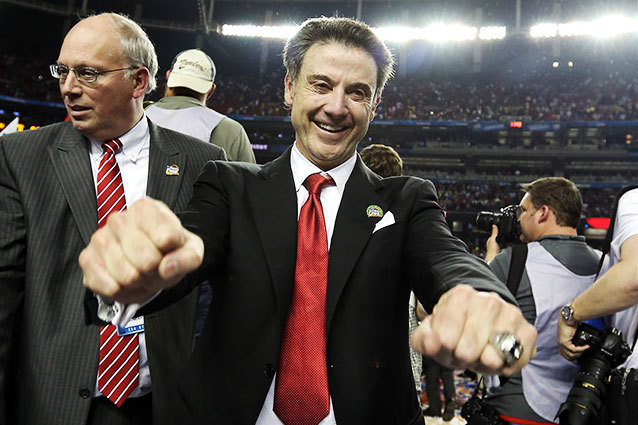 Here's ol' 'Tino, coach of the Louisville Cardinals, celebrating his team's NCAA victory Monday night with an ad hoc Cabbage Patch dance.
Happiness Level: Walking on sunshine.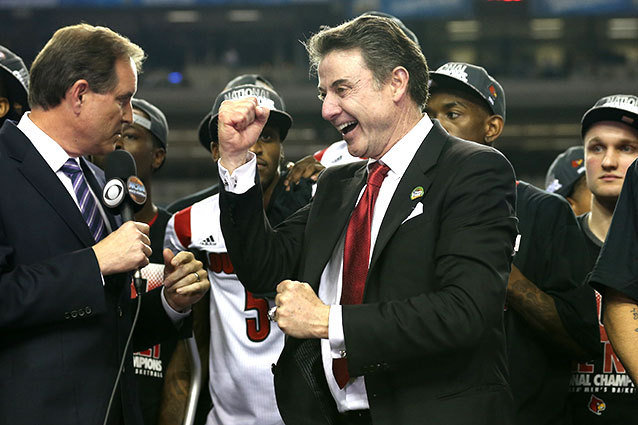 And here's Richie P, sharing his glee with CBS' Jim Nantz, ruminating on his recently announced induction into the Naismith Basketball Hall of Fame, giddily exhibiting his self-taught martial arts skills.
Happiness Level: Living on Easy Street.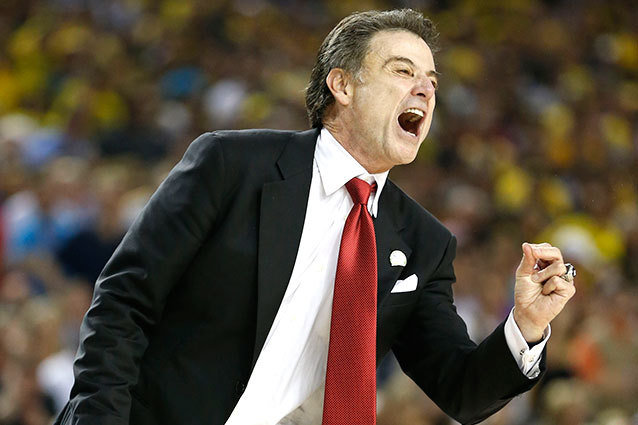 Sing it, R-Teens. Sing out your wayfaring jubilation so that even the nose-bleediest of the Georgia Dome seats can bask in your boundless cheer. Pitino vocalizes pure joy over his horse Goldencents making his way to the 2013 Kentucky Derby following a Saturday afternoon racing victory.
Happiness Level: The sort of pride usually reserved for the mom of a homecoming soldier.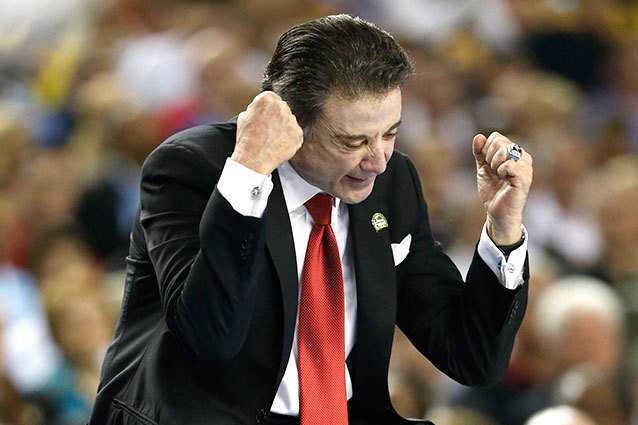 And speaking of pride, take a gander at R.T. basking in the glory of his son Rick Jr.'s magnificent news of earning the head coaching honor over the Minnesota Golden Gophers on Wednesday, adopting the meditative stance imparted upon him during his lifelong training in varied fields of mystical self-discipline.
Happiness Level: Remember when you were a kid and you got two plastic submarines in your breakfast cereal box? Kind of like that.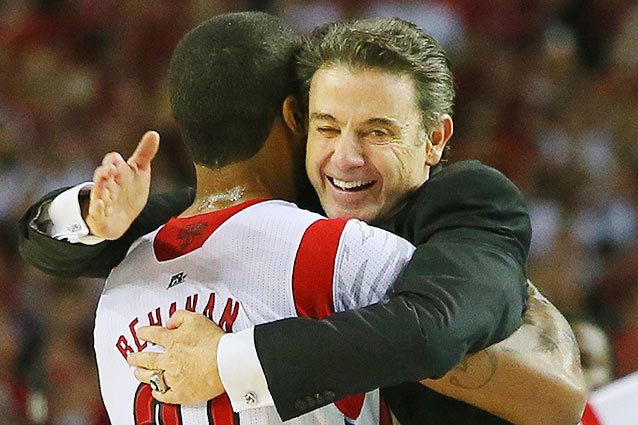 And because we're hardly dealing with a simple man, we must cast our admiring gaze on Rick Pitino, soaring high not on his newly achieved victories or inductions, but in the banquet of love, of friendship, of human decency that is this time in which we are lucky enough to live. Hug it out, RiPit. Embrace your players, your comrades, your spiritual journey toward the ultimate plateau of spiritual enlightenment. You've had a good week, and you deserve all the smiles you can muster.
Happiness Level: Nirvana.
Follow Michael Arbeiter on Twitter @MichaelArbeiter
More:
Harvard Is Good (Ish) at Basketball Now? 7 Things They're Still Bad at
All the Homoerotic Photos from 2013 WrestleMania
Four NFL Players May Come Out as Gay
---
From Our Partners:


40 Most Revealing See-Through Red Carpet Looks (Vh1)


33 Child Stars: Where Are They Now? (Celebuzz)