Rick Ross Kind of Apologizes for Lyrics Glorifying Rape, But Really Doesn't Apologize at All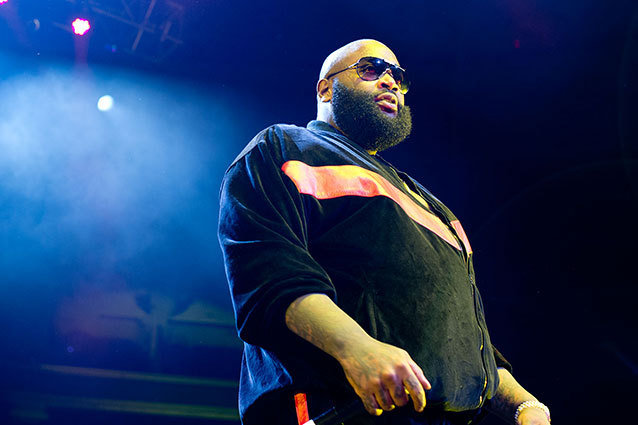 Rick Ross, a rapper who sounds more like an assistant vice principal than an actual rapper, is on the wrong side of the world's fury right now. It appears that some people have discovered the lyrics of his song "U.O.E.N.O." and they, well… they condone rape. "Put molly all in her champagne, she ain't even know it/I took her home and I enjoyed that, she ain't even know it," he sings. Um, yeah. If she didn't know that you were having sex with her, Rick, that's rape, and we don't care how much you enjoyed it. 
Change.org is circulating a petition to get him to apologize and to have him investigated further to make sure that he didn't actually, you know, drug and have sex with a woman against her will. Ross doesn't seem to want to apologize, even though he keeps trying. His first non-apology is in this video where he says, "Woman is the most precious gift known to man. The term 'rape' wasn't used, and I would never use the term 'rape' in my records. We don't condone rape and I'm not with that." Awful paternalistic sentiment aside, that's like saying, "I don't condone murder and I would never use the word 'murder' but if I happen to kill a person, well, s**t happens." 
RELATED: Anti-Rape Underwear Is Sadly a Thing
Later he took to Twitter (where he's getting plenty of backlash) and said the following:
I dont condone rape.Apologies for the #lyric interpreted as rape. #BOSS

— Mastermind (@rickyrozay) April 4, 2013


It's good to know you don't condone rape, Rick, even though your lyrics indicate otherwise. Since he doesn't know what rape means, maybe he doesn't know what "condone" means either. And he's doing that Real Housewives thing where he says, "I'm not going to apologize for what I said, but I'll apologize that you interpreted it the wrong way." You are wrong, Rick. Say you were wrong and make reparations. If not, the Internet will continue to give you things to actually worry about. 
Follow Brian Moylan on Twitter @BrianJMoylan
[Photo Credit: Jeff Fusco/Getty Images]
---
From Our Partners:


40 Most Revealing See-Through Red Carpet Looks (Vh1)


33 Child Stars: Where Are They Now? (Celebuzz)