Controversial Rape Verse By Rick Ross Dropped From Rocko Song 'U.O.E.N.O.'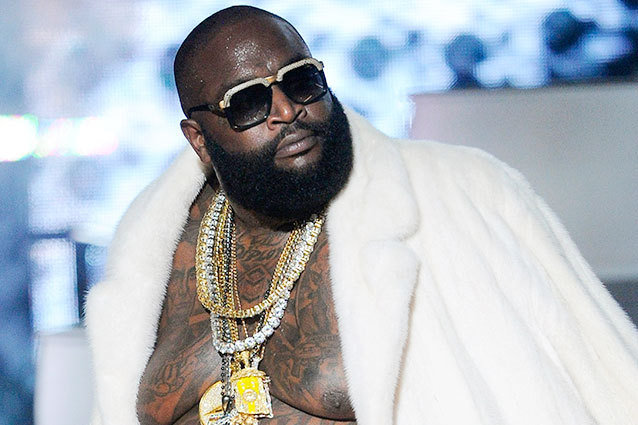 Who could have guessed that in this horrifying era of "rape culture" (from the headline-grabbing Steubenville case to the harrowing story about the suicide of alleged teenaged sexual assault victim Rehtaeh Parsons) that an obviously offensive verse in a song that goes, "Put Molly all in her champagne, she ain't even know it/ I took her home and I enjoyed that, she ain't even know it" would raise so many eyebrows and push so many wrong buttons? Certainly not the rappers behind the song "U.O.E.N.O.," Rick Ross and Rocko. Well, not at first anyway. 
Now that the fury surrounding the song has reached a fever pitch with outrage coming from groups and fellow artists alike, Rocko has decided to cut the controversial Rick Ross verse in question. But Rocko, who discussed the decision to change the remix with rap station HOT 97 FM, isn't doing it for sensitivity matters, but rather "because of the type of traction that the record has as far as radio, it puts me in a position where I have to change it." Rocko, who said he didn't want to take Ross off the track during the interview, added, "I have like six different verses from all types of different, talented artists, some multi-platinum. Some might have even have bigger accomplishments like Grammys and things of that nature." (You can listen to the entire exchange here). 
Ross, on the other hand, tried to apologize for the song. Well, sort of. He mostly claimed that the verse was simply "misinterpreted" and apologized for the misinterpretation, not the meaning behind the lyric. Last month the hip-hop star stopped by a radio show to state that women are  "the most precious gift known to man. Ya understand? It was a misunderstanding with a lyric. A misinterpretation where the term 'rape' wasn't used. I would never use the term 'rape' in my records…. The streets don't condone that. Nobody condones that, ya understand? So, I just wanted to reach out to all the queens that's on my timeline. All the sexy ladies, the beautiful ladies that had been reaching out to me with the misunderstanding… we don't condone rape and I'm not with that."
He also took to Twitter in the wake of the outrage over the song to post, "Apologies to my many business partners,who would never promote violence against women. @ReebokClassics @ultraviolet." According to Billboard, Reebok has been called out by a group of rape survivors to cut their ties with Ross for the song. 
More:
10 Worst Quotes from Brad Paisley's Still-Racist Apology for 'Accidental Racist' 
Brad Paisley and LL Cool J's Song 'Accidental Racist' is (Whoops!) Completely Racist  
Tina Fey Takes Down Todd Akin, The GOP, and Their Definition of Rape 
---
From Our Partners:


Eva Longoria Bikinis on Spring Break (Celebuzz)


33 Child Stars: Where Are They Now? (Celebuzz)