Rihanna & Chris Martin: Lovers or Warrior Enemies in New 'Princes of China' VIDEO?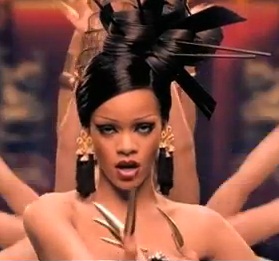 Rihanna may have only recently made her feature film debut in Peter Berg's action/sci-fi Battleship, but she is really extending her acting abilities in the new music video for Coldplay's "Princess of China." The 24-year-old performer takes on many roles in the video, including princess, warrior, and — as she said in a tweet attached to a picture of her in costume — a "Gangsta goth geisha."
The video faces Rihanna against Coldplay frontman Chris Martin, who himself dons a cloak and sword in a barren desert setting. The two engage in an epic battle, but also in an epic love story, playing (as the song goes) a "once … bright" flame, a "king" and "princess", and "two halves" of the same heart.
Now that Rihanna is clearly capable of handling a multitude of characters — even within the span of a three-minute music video — fans can look forward to her bringing excellence to her upcoming acting projects, including Seth Rogen's The End of the World and, possibly, The Fast and the Furious 6.
Check out "Princess of China" below!
More:
Rihanna's Risqué Photo Shoot for Her New Perfume, Nude — PICS
Rihanna Reveals Nearly 200 Topless Pics from 'Where Have You Been' Shoot