Rihanna's Selfie with an Endangered Monkey-Sloth Got Two Dudes Arrested in Thailand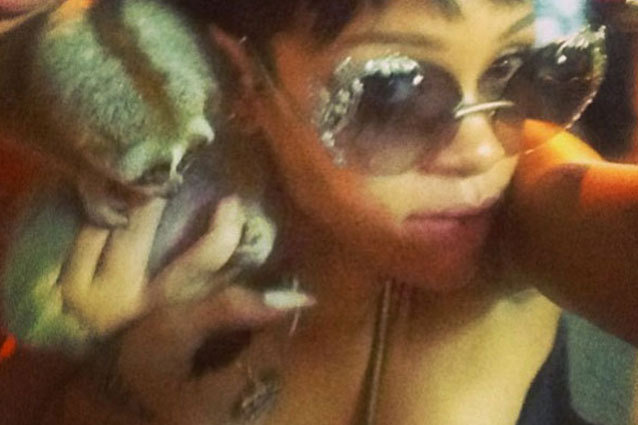 Instagram
Showbiz is filled with heroes. Do-gooders who utilize countless strategies to fight for causes of all sorts: The Sean Penns who high tail it to the Middle East with a camera crew and a mouthful of rage. The Susan Sarandons who board charity upon charity to give children across the world a better quality of living. The Rihannas who take Instagram pictures in order to put illegal animal dealers behind bars. Yeah, we're giving Rihanna the benefit of the doubt on that last one.
While visiting Thailand, Rihanna tweeted a selfie featuring the company of a slow loris — that's the monkey-sloth/lemur-badger seated atop the singer's shoulder in the picture above — to her fanbase offering wide exposure to the illicit captivity of these endangered primates and resulting in the arrest of the individuals who have been allegedly peddling the animals. Rihanna, you've done it again.
According to People, Rihanna stopped by the Thai island of Phuket during her Diamonds World Tour, happening upon a pair of individuals with slow lorises at their disposal and snapping a picture with one of the Strepsirrhini in question… we can assume that it was a quick-thinking tactic on the part of Rihanna — who knew that anything she posted to Instagram would immediately take worldwide notice — to free the poor omnivores from wrongful incarceration. Either that, or she (much like every other human being on the planet) could not resist taking a picture with something that looks like a cross between a raccoon and a neck pillow. We'll chalk this one up to heroism.
More:
The Rihanna/'Game of Thrones' Mash-up Is Life Changing
Lorde Is Still the Coolest Teenager Ever
Pop Stars Who Risked the Wrath of PETA
Follow @Michael Arbeiter
| Follow @Hollywood_com
---
From Our Partners:


40 Most Revealing See-Through Red Carpet Looks (Vh1)


15 Stars Share Secrets of their Sex Lives (Celebuzz)