Rihanna: Getting Naked Boosted My Body Image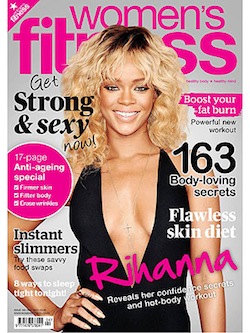 Still scratching your head at that topless Pebbles Fintstone picture Rihanna posted on Twitter? Apparently the singer was just in the need of a little confidence boost (and felt the need to share it with her fans).
In the latest issue of Britain's Women's Fitness magazine, Rihanna explains her penchant for pantslessness. "The more I got naked, the more comfortable I felt," she says. "I just had to face my fear. You always find something wrong, you always find something you're uncomfortable with, and one thing turns into another and you get embarrassed and self-conscious about it. After a while, it was like, 'What's the worst that can happen?' I just started being a little more daring with it. It was just knowing my body … is what it is under clothes or outside of clothes."
That definitely sounds a lot better than years of therapy, but RiRi warns you shouldn't try this at home. "My way probably won't work for most people," she admits.
[People]