Rihanna Goes Topless on Twitter: Pic!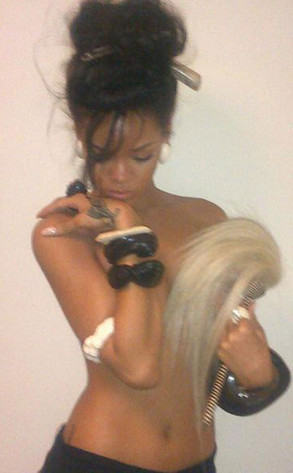 Well, no one would ever call Rihanna shy. The 24-year-old singer went topless in a recent Twitter pic, which was posted late in the day on March 7.
Of course, the superstar strategically covered herself with her arms, as to not completely expose herself (for modesty purposes, we're sure). But it certainly managed to grab her millions of followers' attention for several reasons: 1. because she's topless (obvi) and 2. because she appears to be dressed like Pebbles from The Flintstones, which remains a bit of a head-scratcher. Perhaps she's auditioning for Flintstones: Rated R.
Nevertheless, it's still unclear as to why she posted the risque photo in the first place, but based on her caption, "Where have you been all my life?!," we're guessing she's not referring to a new top.
What do you think of Rihanna's puzzling twitpic — bold or just plain unnecessary?
Source: Twitter