Rihanna Literally Strips Down in New Music Video for 'Stay'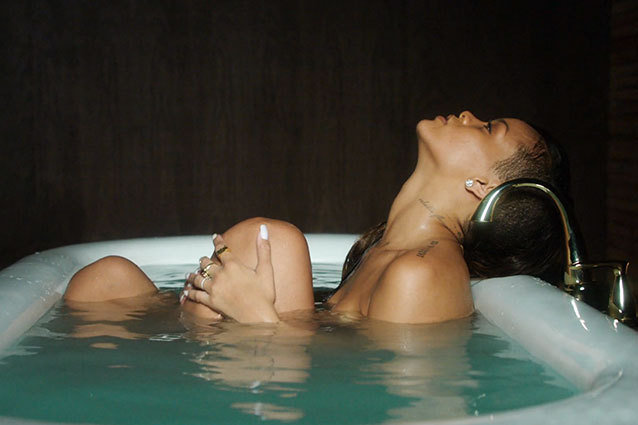 Rihanna's latest music video shows an increasingly vulnerable side of the pop star. She promised an "emotional," "personal," and "powerful" video for "Stay," and she gave just that — and more.
For the new video for the latest single off her album Unapologetic, Rihanna strips down. There are no fancy effects, no elaborate costumes or choreography; the video consists solely of Rihanna singing naked in a bathtub, sometimes joining her voice with a surprising duet partner, Nashville singer Mikky Ekko. Half voiceover, half out loud, Rihanna sings with emotions so strong she's practically shaking.
Sometimes, Rihanna's vocals switch from live to voiceover mid-sentence, and in doing so, Rihanna shows that she is afraid of what she's feeling. The emotions are new, powerful, and maybe unwanted — and yet, she can't stop feeling them. The video's simple format of just one scene and two partners let's the song speak for itself. No flash, no distractions needed here: just pure emotion and vulnerability.
RELATED: Rihanna Says Chris Brown Is Different Now: Has Her Bad Girl Image Gone Too Far?
Watch the stripped-down Rihanna — figuratively and literally — below, and let us know what you think of her latest music video.
Follow Sydney on Twitter: @SydneyBucksbaum
[Photo Credit: Island Def Jam]