Rihanna Storms Out of an Interview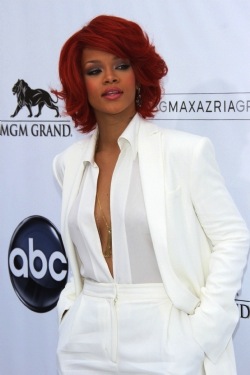 Rihanna has a history of snapping at reporters who pry into her personal life, but on Thursday, she actually wound up storming out of an interview when asked a rather vague question about her love life.
On the Australian morning show Sunrise, Rihanna was asked about what it's like to be linked to another celebrity when you barely even know them. "Very frustrating," RiRi shot back. "Almost as frustrating as being asked about it." The interviewer tried to come back with some flattering comments about what a huge star she's become, but their talk ended "abruptly."
Rihanna has been sick this week, so it's likely she had even less tolerance than usual for the rumors about Ashton Kutcher and Chris Brown. Stars travel with a team of people who are supposed to prevent these awkward encounters, but of course they can't stop a rogue interviewer from asking about topics that are "off-limits." Sometimes, all a celebrity can do is get up and walk away — and Rihanna has now joined the ranks of these expert question dodgers.
Here's a sure-fire way to have a short celebrity interview: Ask the star about his wife's sex tape… with another man. Last summer Univision's news show El Gordo Y Flaca asked Marc Anthony about the nude video Jennifer Lopez allegedly made with her ex-husband Ojani Noa. He told the reporter, "Next question," six times, then stood up and left the room when she wouldn't move on to a different topic.
In 2011, Sarah Ferguson was forced to watch undercover footage of herself offering to sell access to her ex-husband Prince Andrew during an interview with Australia's 60 Minutes. The Duchess stormed out, demanded that producers "delete that bit," then returned to give awkward answers to the rest of the questions.
When Mark Lawson of BBC Radio 4 suggested there were "hints of Irish" in Russell Crowe's Robin Hood accent, he responded, "You've got dead ears, mate. You've seriously got dead ears if you think that's an Irish accent. I'm just a little dumbfounded that you could possibly find any Irish in that character. That's kind of ridiculous." When Lawson pushed the point, Crowe snapped, "I was going for Italian. Missed it?" He then walked out brandishing his cigarette. Hopefully Crowe got out all of his aggression and refrained from hurling something at his dialect coach.
Yes, even the nicest celebrity alive has abandoned an interview — though she did it in the sweetest way possible. Shortly after the infamous Kanye West incident at the VMAs, Swift did a phone interview with a Tampa Bay, FL radio station. Though she'd already discussed the debacle on The View, Swift politely answered the first few Kanye-related questions, though she made it clear she wanted to move on. "I really would appreciate if we could talk about something else," Swift said. "Because I've asked you three times now. I'm trying to be nice about it. Because it's not something that we need to spend this whole interview talking about." When the D.J. continued talking Kanye, Swift's publicist interrupted and informed him she'd moved on to another call.
Shortly after her breakup with Jesse James, Kat Von D stormed off the set of Good Day L.A. seconds before an interview about her show L.A. Ink. Supposedly, she was upset about the anchors mentioning her breakup, though she'd approved the clip from her show which featured her revealing a tattoo of James' childhood photo. She tweeted later, "Dear GoodDayLA, thanks for the waste of a perfectly good morning. Lack of compassion n respect for each other never fails to disappoint me."
During an interview with Good Morning America last summer, anchor Dan Harris started asking Paris Hilton about her reality show's dismal ratings and the possibility that she'd been usurped by (ex-BFF) Kim Kardashian. "Do you ever worry about your moment having passed?" he asked. And, rather than answering, Hilton looked at her publicist and walked off the set. After composing herself, Hilton did allow Harris to ask some hard-hitting questions… about her two-story dog house, then ended the interview with a hug.
[E!, Daily Mail, Telegraph, EW, People, MyFoxLA]
More:
Rihanna Denies Ashton Kutcher Romance
Rihanna: Why She's Still in Contact With Chris Brown