Rihanna Unapologetic for 777 Tour Shenanigans: Relive Them Now — GALLERY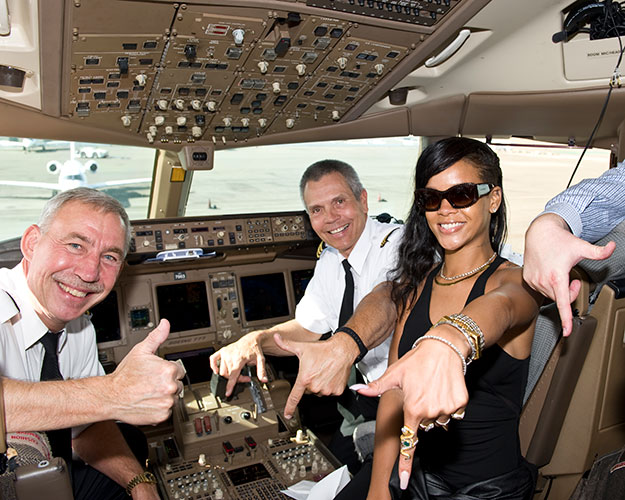 If there was ever any doubt, we now know that Rihanna can throw one heck of a party — forget about a party bus, girl has got a party plane. Tuesday night marked the final stop on Rihanna's whirlwind 777 tour to promote her new album Unapologetic. Before wrapping things up in NYC, Rihanna visited seven countries in seven days and, to keep the party going all week long, Rihanna globetrotted in style with an entourage of rowdy fans, assistants, and journalists.
From Day One, news of Rihanna's shenanigans spread like wildfire. How much champagne was on that plane? Was there really a streaker? The images of the tour seemed to scream, "WE ARE HAVING SO MUCH FUN!" And yet, as the week went on, journalists from publications such as Rolling Stone and Spin stopped being polite and started getting real. Limited access to Rihanna and carbon copies of the same concert began to erode the tour's luster for reporters on board.
But you know what, Rihanna don't care. The New York Daily News reports Rihanna says of her tour, "It's impossible to spend time with everybody, and I'm sorry I didn't. But this was excellent and I would definitely do it again."
Even as journalists are left with a sour taste in their mouths, fans are left with crazytown memories of a debaucherous week. Check out our gallery of 777's most insane moments. Hey, it looked pretty fun to us.
The 7 Craziest Moments from Rihanna's 777 Tour
Follow Abbey Stone on Twitter @abbeystone
[Photo Credit: Carsten Windhorst/WENN]
More:
Rihanna's New Music Video For 'Diamonds' Debuts: Is It About Chris Brown?
Chris Brown and Rihanna Are Hooking Up: Why This Cannot Happen
Rihanna on 'Oprah's Next Chapter': 'I Still Love' Chris Brown

Prince William Shares Personal Snapshots of Royal Air Force Life (PHOTOS)
(Celebuzz)

Rihanna Curses Out Band in Mid-Song, Fends Off Streakers and Rioting Reporters: See 6 Out-Of-Control Moments During Her 777 World Tour
(Celebuzz)