Roberto Cavalli's Curve-Less Beyonce Image Causes Uproar, But Is It Warranted?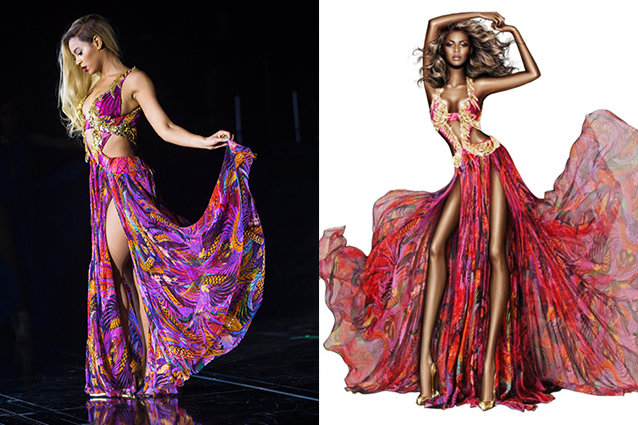 In our world today, there are a few universal rules to live by: watch Game of Thrones only if you enjoy having your heart ripped out and stomped on, use Twitter to let people know when you've gone bats**t insane, and most importantly, don't mess with Beyoncé's curves. On Tuesday, Italian designer Roberto Cavalli apparently broke rule number three. The well-known fashion icon caused quite an uproar when he released an illustration of Beyoncé in the custom gown that he designed for her Mrs. Carter Show World Tour.
Beyoncé fans (a.k.a all humans) were appalled by the image, which showed the singer in a colorful cutout dress looking anything but bootylicious. Indeed, her curvaceous figure had been transformed into a scarily thin, almost unrecognizable version of itself. Upon the picture's release, the masses took to the Internet, posting their complaints about the horrible "Photoshop job." But is that really what's going on here?
While we agree that over-Photoshopping is never a good thing, it's also important to note that this is a completely different medium. This picture is pretty obviously a fashion sketch (and seriously, when do those ever make bodies look proportional?). 
It looks like Roberto Cavalli's PR people also felt the pressure to clear up this matter. They released this official statement on the fashion house's Facebook page:
"Dear Fans,
We would like to clarify that the image of the gown created by Roberto Cavalli for Beyoncé is a sketch and not a photo, and therefore it is only meant to be a stylized and artistic vision. Roberto Cavalli loves women and more than anyone else has always exalted and highlighted the female shape with his creations, building his signature style on the glorification of sensuality and femininity."
Perhaps it would best if everyone calmed down and appreciated the most important aspect of this Roberto Cavalli situation: the real Beyoncé looks positively gorgeous in the gown!
Follow Caroline on Twitter @carolinesb | Follow Hollywood.com on Twitter @Hollywood_com
More:
Beyoncé's 'Rise Up' Is a Letdown
Beyoncé Is Expecting Baby No. 2
Beyoncé Joins Jay-Z On Stage  
---
From Our Partners


Stars Pose Naked for 'Allure' (Celebuzz)


Which Game of Thrones Actor Looks Least Like His Character? (Vulture)