Home
Celebrities
Robert Pattinson on 'GMA': I'm Not 'Interested in Trying to Sell My...
Robert Pattinson on 'GMA': I'm Not 'Interested in Trying to Sell My Personal Life'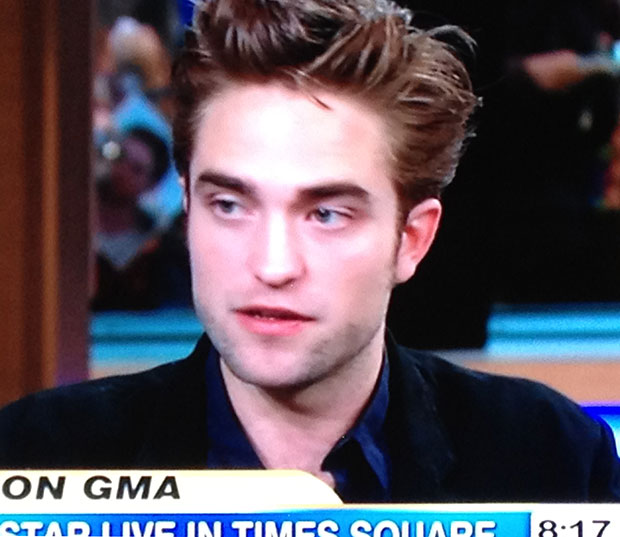 Robert Pattinson is trying hard to make the tour and promote his new movie Cosmopolis, but it seems like everywhere he goes, all people want to chat about with him is the "big elephant in the room," his girlfriend Kristen Stewart's affair with her married Snow White and the Huntsman director Rupert Sanders. Pattinson gave his first post-scandal interview to Jon Stewart on The Daily Show Monday night. But over a bowl of ice cream, the only thing that Pattinson would relay is that he needs a publicist. And on Wednesday, Pattinson stopped by Good Morning America, where he again tried his best to avoid answering any personal questions.
Good Morning America tried to break the ice by offering Pattinson some cereal, but that didn't really work. When asked how he is doing and what he wants his fans to know, Pattinson made a comical reply. "I like my fans to know that Cinnamon Toast Crunch only has 30 calories a bowl in it," he jokingly said. "Pretty much everything that comes out of my mouth is irrelevant."
Pattinson continued to explain that he handles the "craziness" by trying not to talk too much about it. "It's a completely different thing," he said. "You get into it to do movies. I've never been interested in trying to sell my personal life. That's really the only reason people bring it up. The reason you go on TV is to promote movies. That's kind of the only way to do it."
Pattinson also did admit that after all these years in the spotlight, he's still not used to it. "I think if you start getting used to it, it means you've gone crazy," he said. "It's nice, [but] it's like being on the craziest theme-park ride. It's totally exciting, but eventually at some point you got to have a break."
And once the awkwardness was out of the way, Pattinson was finally able to discuss his new movie, Cosmopolis, in which he plays 28-year-old billionaire Eric Packer. Pattinson's character is someone who wants to hold all the cards, but at the same time, is losing control. The reason Pattinson was drawn to this role in the first place? "I've always found this connection with finding it difficult to live in the present," he said. "It's funny, it exacerbates it being an actor because you actually have to focus on it trying to exist in a contemporary way. I always feel like I was kind of living in the future. That's a lot of what Eric Packer's problem is: It feels like he is living in the future and he's not really being able to totally feel. It's a lot of similarities with an actor's life."
Cosmopolis hits theaters in New York and Los Angeles on Aug. 17.
Following Lindsey on Twitter @LDiMat.
[Photo Credit: ABC]
More:
Robert Pattinson and Jon Stewart Bond Over Ice Cream
Robert Pattinson Alert! 'Twilight' Star to Play Lawrence of Arabia
Kristen Stewart Dropped from 'Snow White and the Huntsman' Sequel — REPORT