Robin Gibb Wakes from 12-Day Coma: His Emotional First Words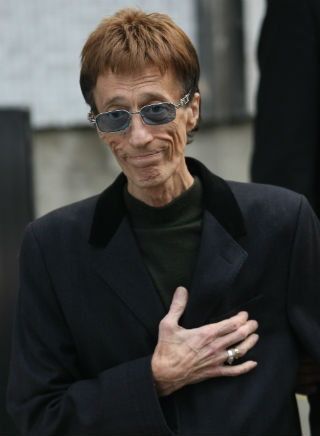 After contracting pneumonia and falling into a frightening 12-day coma, Bee Gees singer Robin Gibb has awoken, his spokesperson confirms. 
Speaking to Britain's Sunday Express newspaper, Gibb's son, RJ, 28, shared the emotional story. 
Family members, including RJ, his mother Dwina and Gibb's other children, had kept a bedside vigil for nearly two weeks, singing songs and talking to the unconscious singer. Then, finally, a "miracle." 
Gibb opened his eyes, looked at his son and uttered, "Hello RJ." 
It's been a long road to recovery for the singer. Gibb, 62, revealed his battle with liver and colon cancer in October 2010. He had emergency surgery to treat a blocked bowel and another operation to treat a twisted bowel (his twin brother,
Maurice
, died from the condition in 2003 at age 53). 
His younger brother,
Andy
, died of a heart ailment in 1988. He was only 30.
Dwina says the outpouring of support from fans has been incredible, with thousands saying prayers for him every day, and the family thanks everyone for their support.
More:
Bee Gees Robin Gibb Is In a Coma