Robin Roberts Addresses Fans in a Heartfelt Video Prior to Bone Marrow Transplant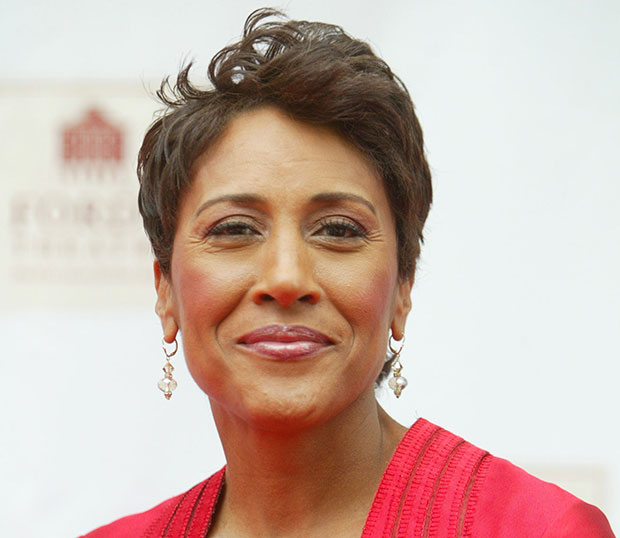 After 11 days in the hospital, eight of them filled with rounds of intense chemotherapy, Good Morning America host Robin Roberts, 51, will receive her bone marrow transplant on Thursday. The transplant is the next step in treating Roberts' MDS (Myelodysplatic syndrome), a rare blood disorder. Her sister, Sally-Ann is her bone marrow donor.
Roberts recorded a powerful video message for her fans, thanking them for their support, which aired on Good Morning America Thursday morning. "This journey is as much about the mind as it is the body. Your thoughts are so powerful. You've got to change the way you think in order to change the way you feel," she said. Roberts teared up as she concluded, "And let me just say this lastly, I feel the love and I thank you for it. Thank you."
Roberts' oncologist Dr. Gail Roboz joined GMA host George Stephanopoulos on the air to explain Roberts' current condition. She said of the chemotherapy treatments received earlier this summer, "That was really MDS directed treatment. That was to mow the lawn, get rid of as many MDS cells as possible, boost the bone marrow, and get things ready for the transplant. This type of therapy over the past week has been much more intensive. This isn't just mowing the lawn, it's not getting rid of the weeds on top, it's digging down deeper and really trying to empty out the bone marrow cells and get rid of immune system cells so the new ones from Sally-Ann can come on in."
Roboz continued, "I think we can see, Robin looks great, she's a powerhouse, but she feels crummy. Her mouth hurts, she's got a headache that won't quit, nothing tastes right, it's hard to get up and even move around in the room… It's powerful to hear her say that reading a few emails or sitting up in bed is a lot of work."
Roboz also reminded viewers that the healing process from a bone marrow transplant will take time. While Roberts is strong and is a fighter, she will not be returned to her usual active self overnight. "This is the beginning of the rebuilding phase," said Roboz. "We're not done, rebuilding is not immediate, it takes weeks to months."
Finally, Roboz spoke of the loss Roberts has felt since her mother, Lucimarian Roberts, passed away on August 30. "Everything is going great. Medically speaking everything is going fantastically. I think she misses her mom a lot, and I think it's been really hard to go through this," Roboz explained. "She said yesterday that this is the first hard thing she's had to without her mom, so I think that's been a challenge. But she's been a trooper and fighting through it and she's doing very, very well."
The road to recovery will not be easy for Roberts, but she is well on her way to regaining her health. Fans wishing to show their support for Roberts can share their messages on Twitter with the hashtag #TeamRobin.
Follow Abbey Stone on Twitter @abbeystone
[Photo Credit: WENN]
More:
Update: 'GMA' Anchor Robin Roberts Begins Medical Leave Friday — VIDEO
Robin Roberts: 'Pre-Treatment for MDS Caught Up With Me Tuesday'
Robin Roberts Taking a Break from 'GMA' to Undergo a Bone Marrow Transplant
From Our Partners:

'Teen Mom': Catelynn Lowell and Tyler Baltierra are Filming Spin-Off — EXCLUSIVE
(Celebuzz)

(Celebuzz)