Robin Roberts 'Energized' and Ready to Go Home After Bone Marrow Transplant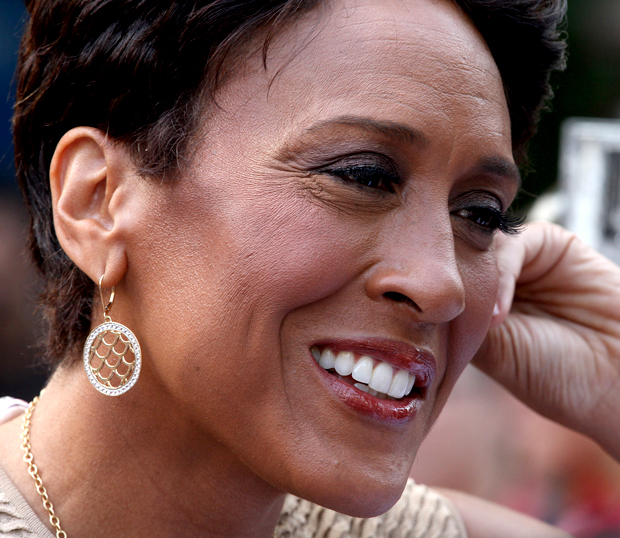 Over the summer, beloved Good Morning America anchor Robin Roberts went public about her struggles with Myelodysplastic syndrome (MDS), a blood and bone marrow disease. Fans were subsequently told that Roberts would be taking leave from her spot on the ABC morning program, and that she would be undergoing treatment and a bone marrow transplant for her condition. Roberts underwent the surgery on Thursday; ABC News reports that the operation was completed in only five minutes. Robins' sister Sally Ann provided the donor cells with which the GMA host was injected.
Following the procedure, Robins is reported to have made the following statement: "I will now wait and anxiously watch and see what happens … In the next seven to 10 days my counts will continue to go up and we'll be on to phase three, which will be get out of here. Get out of here. Go home. It's a journey."
Dr. Gail Roboz, Robins' oncologist from New York-Presbyterian Hospital/Weill Cornell Medical Center, appeared on Good Morning America Friday morning to share some encouraging words about Roberts' recovery. "This morning she sounds energized and she wants to be out of bed, and the end [an] email was, 'I want to go home' with an exclamation point," Roboz said. Roboz also expressed her amazement with the incredibly quick procedure: "Nobody can believe it … People have in their mind all kinds of images of what can happen in a transplant, but it's still an incredibly powerful moment."
Roboz went into detail about the procedure and where Robins' treatment will take her from hereon out. "Inside of that syringe are millions and millions of stem cells that are now circulating around and trying to find their home and start growing, which is what we're going to be looking for over the next couple of weeks," she said. "We have to roll with the punches over the next few days because, don't forget, her systems are down and Sally-Ann's aren't up yet so we're in that in between zone of watching very carefully. We are wanting every day to be a good day but we are ready for some bumps in the road."
ABC News reports that Robins' colleagues Sam Champion and Diane Sawyer were among those in the operation room with the anchor during the procedure.
[Photo Credit: Wenn]
More:
Robin Roberts Addresses Fans in a Heartfelt Video Prior to Bone Marrow Transplant
Melissa Joan Hart Gives Birth to Third Son
From Our Partners:

Blake Lively, Avril Lavigne, Kate Hudson: Guess the Celebrity Engagement Ring — GALLERY
(Celebuzz)

(Celebuzz)