Robin Thicke Blames Miley Cyrus for Controversial VMA Performance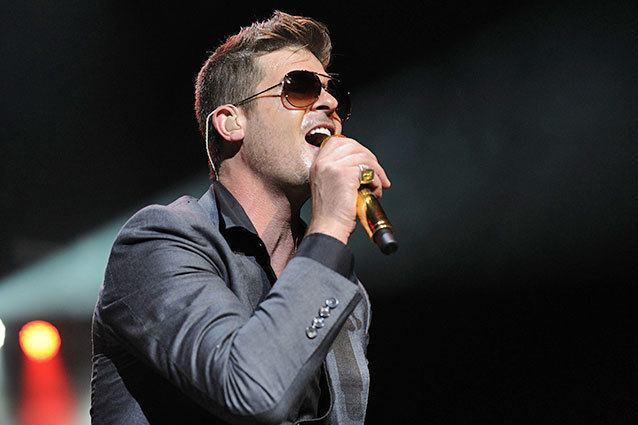 Dominic Chan/WENN
Robin Thicke is finally breaking his silence on his controversial VMA performance with Miley Cyrus, and he's doing so in the classiest way possible: in a sit-down with Oprah Winfrey. Unfortunately, his remarks don't quite live up to the classiness of this venue. In a new clip for the show that will air on Sunday at 9 PM, Oprah says to Thicke, "You didn't think of it (the VMA performance) as sexual?" But, just when you think Thicke will respond like a man and own up to his actions, he instead replies, "I was on stage, so I didn't see it." Dude, that is such a cop out. 
For the past month, Miley Cyrus has faced criticism over her performance, and the 20 year old has either brushed it off or chalked it up to being intentionally shocking. In her interview with MTV, Cyrus claimed, "Me and Robin the whole time said, 'You know we're about to make history right now.'" Unfortunately for Cyrus, Thicke apparently decided not to stand by her, and instead offers up an array of excuses to Oprah. At one point, Thicke even describes the experience saying, "I'm looking up at the sky, I'm singing, I'm not really paying attention to all that. That's on her." 
Um, excuse us, Robin, but didn't you also practice that routine with her, and weren't you the one who made the naked girls video in the first place? Miley was acting out your video, and sure, maybe she did so with her own twerk twist, but it was your video you two were reenacting. And the even worse part of this interview? Oprah is laughing. She's in complete agreement that Thicke was hoodwinked and Cyrus used him for her history making performance. There is no reference to a joint effort between Cyrus or Thicke, and he instead ends the clip but slamming Cyrus one more time, saying, "Listen, I'm the twerkee. I'm twerked upon. I don't twerk myself."
While Thicke may have been trying to save his own reputation, it's not very mature or professional to throw your partner under the bus. Basically, Thicke, instead of making everyone think you're the innocent party, you instead made yourself look like a coward who isn't able to admit to his own actions. And Oprah, I'm disappointed in you. Where are your journalistic instincts? Why are you laughing when you should be asking the questions, and putting Thicke on the spot? He was on that stage too, there is no way he isn't equally to blame. Shame on both of you. 
Click here to see the extended clip, and check out the video below for a preview of the entire interview.