Roger Ebert's Many Loving Parodies: 'The Critic,' 'The Simpsons,' 'Godzilla,' and More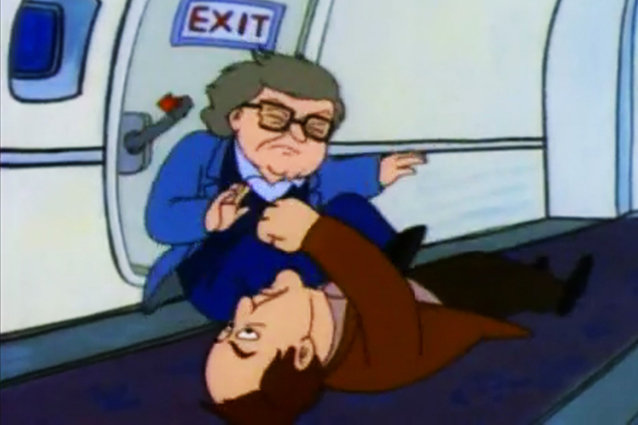 In contrast to the majority of men and women who have achieved his degree of celebrity, Roger Ebert spent far more time in the audience with the rest of us than he did onscreen. Sure, he had his own television series At the Movies, with partners Gene Siskel and later Richard Roeper, not to mention a revolving door of late night talk show appearances, but otherwise, catching a glimpse of Ebert in a movie or TV show was a rare treat… and one that took a variety of forms.
The pop culture zeitgeist has made a tradition of parodying its most formidable critic, Mr. Ebert — savvy shows and films have taken many a loving jab at the wielder of the mighty "thumbs down," channeling his well-known catchphrase and penchant for scathing reviews to send up the Hollywood industry altogether. And in light of the tragic news of Ebert's passing, we say goodbye to the iconic character with a roundup of biting, affectionate homages.
RELATED: Roger Ebert, Beloved Film Critic, Dies at 70
Of course, there was no program where a Siskel and Ebert parody made more sense than Fox's mid-'90s animated sitcom The Critic, which pit the superhuman film reviewers against one another in a heated, long-gestating rivalry… only to land them right back together in the end:
But it wasn't only niche series that paid tribute to the bickering duo: Roger and Ebert found a home in this early Simpsons episode, arguing tirelessly over the quality of in-universe blockbuster McBain.
The demographic-spanning familiarity of Siskel and Ebert are evident in his presence in children's programming as well. The pair took form in the Summer 1998 issue of Muppet Magazine, as depicted below — equipped with Rizzo the Rat, a cavalcade of movie snacks, and dueling thumb ratings. Additionally, Ebert appeared in a 1991 Sesame Street special,"Big Bird's Birthday or Let Me Eat Cake."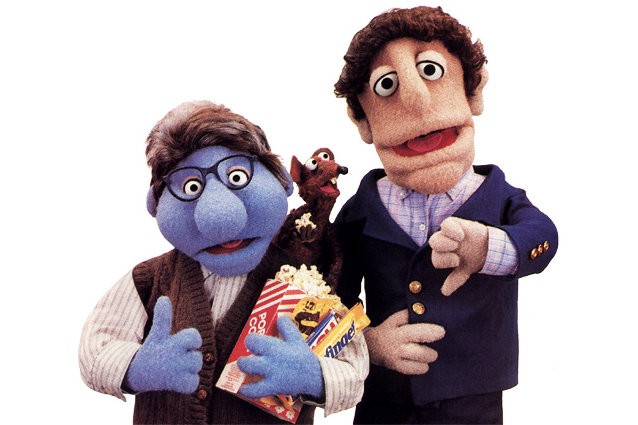 And again speaking to younger audiences is the pair's wacky, slapstick-heavy appearance in the Slappy the Squirrel segment of an episode of Animaniacs titled "Critical Condition." Portrayed as two harsh critics of the titular actress' work, Siskel and Ebert substitutes Lene Hisskill and Codger Eggbert get their comeuppance at the hands of the vengeful rodent… they eventually come around.
RELATED: Steve Carell, Jimmy Kimmel and More Pay Tribute to Rogert Ebert
The 2003 indie film Abby Singer employed Ebert to cameo as himself, playing a romantic rival of sorts to aspiring filmmaker Curtis Clemins. The trailer below features a parcel of Ebert's performance, which includes an extended homage to the classic film Citizen Kane.
Finally, we have Godzilla, which melded the persona, appearance, and reputation of Ebert with Michael Lerner's bespectacled mayor character, who, incidentally, had a sidekick named Gene — another affectionate jab by the movie makers of the world at the two men both feared and respected by an entire industry.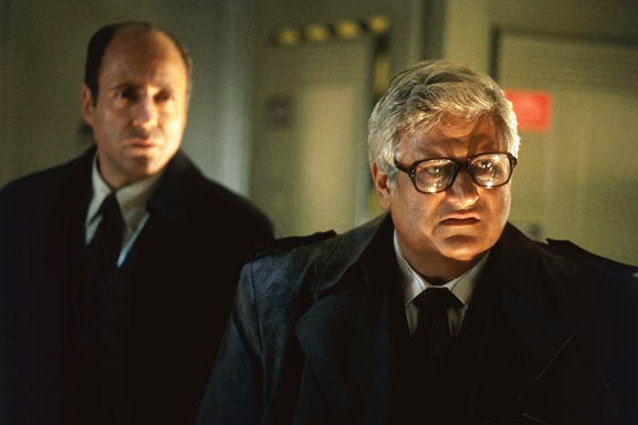 Follow Michael Arbeiter on Twitter @MichaelArbeiter
[Photo Credit: Columbia Pictures Television, Children's Television Workshop, TriStar Pictures]
---
From Our Partners:


40 Most Revealing See-Through Red Carpet Looks (Vh1)


33 Child Stars: Where Are They Now? (Celebuzz)