Roger Ebert, Legendary Film Critic, Dies at 70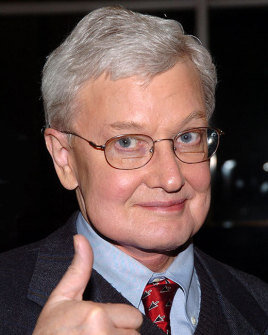 Roger Ebert, the legendary film critic for The Chicago Sun-Times who gave the thumbs up and thumbs down designation to movies for years on TV's Siskel and Ebert, died today, according to the Sun-Times. He was 70 years old. 
Just one day prior to his death, Ebert announced he was stepping back from his duties at the paper, where he worked since 1967, due to a recurrence of cancer. He was diagnosed with thyroid cancer in 2002 and subsequent surgeries to try to rid his body of the disease resulted in the loss of his lower jaw. He said in a statement Wednesday that he would be reviewing only the movies he wanted to review and working on his website, RogerEbert.com, which became a popular hub for film criticism in recent years. 
Ebert's illness was marked by his pervading spirit and realism. It's something captured in an essay from his 2011 book Life Itself: a Memoir. He wrote:
I was perfectly content before I was born, and I think of death as the same state. I am grateful for the gifts of intelligence, love, wonder and laughter. You can't say it wasn't interesting. (The full excerpt is available on Salon)
RELATED: Roger Ebert to Take 'Leave of Presence' from Sun-Times
The news of his death was announced on Twitter by his former employer. His partner in criticism Gene Siskel died in 1999, also of cancer. 
There is a hole that can't be filled. One of the greats has left us. Roger Ebert has passed away at the age of 70. suntm.es/Z4EIOF

— Suntimes (@Suntimes) April 4, 2013
Born and raised in Urbana, Ill. in 1942, Ebert was a lifelong movie lover, writer, and orator who pursued writing at an early age. The future film reviewer contributed to science fiction magazines and eventually became the co-editor of his high school paper. In 1958, he won a championship in Radio Speaking, forshadowing his success on television. His love for writing and journalism continued into his college years, fostering the skills that would later make him a household name.
On the cusp of getting his doctorate in English, Ebert took a step many in his position would have scoffed at: He took the job as film critic for The Chicago Sun-Times, a position he filled until his final days. Ebert's popularity as a local expert in Chicago steadily rose, eventually leading him to become the first film critic to win the Pulitzer Prize for criticism in 1975.
That success propelled him into a spot co-hosting a weekly film review TV series, Sneak Previews, with rival Chicago newspaper film critic Gene Siskel. The show began as a local series, but went national thanks to PBS in 1978. By 1982, the nation was hooked and Siskel and Ebert were so beloved that the show became a nationally syndicated series, and At the Movies was born. It was after the series garnered Emmy nominations and the duo gained even greater fame that the title switched to Siskel & Ebert. And, of course, we can now thank Ebert and Siskel for the "thumbs up/thumbs down" measure of review.
In 1999, Ebert lost his trusty cinematic sparring partner when Siskel passed after a risky surgery. Ebert continued to host the show on his own, cycling through various co-hosts until he landed on a permanent partner, Richard Roeper, in 2000. And it's thanks to Ebert's lasting mark on movie criticism that he's the only movie critic with a star on the Hollywood Walk of Fame. Boasting Citizen Kane as the movie he'd take with him to a desert island, Ebert promoted the philosophy that all reviews are relative and that we should only compare films within the same genre to each other. His reach within the film community was strong, as he was active on his show and online via the Sun. He also penned numerous books, including I Hated, Hated, Hated This Movie and Ebert's Bigger Little Movie Glossary.
Fervent Ebert fans also know him as the co-screenwriter of Beyond the Valley of the Dolls, which has evolved into a camp classic since its 1970 release. It was his only produced feature film screenplay, but it was, at the very least, an unforgettable one.
Though Ebert's opinions were unavoidable, fans knew little about his personal life. But, following a brief courtship with Oprah Winfrey, Ebert married trial attorney Chaz Hammelsmith in 1993. Sadly, Ebert's health problems cropped up in 2002, when he had surgery to remove his cancerous thyroid gland. He had surgery a second time only a year later on his salivary gland, followed by radiation treatment. Despite his struggles, he kept up the good work on his show, delivering the verdicts on Hollywood's biggest films. Unfortunately, in late Spring 2006, his cancer worsened and he continued to battle the illness until his death in April 2013.
Ebert is survived by his step-daughter and step-grandchildren, and while he may no longer be with us, his mark on movies and pop culture is immeasurable and completely unforgettable. 
---
From Our Partners:


40 Most Revealing See-Through Red Carpet Looks (Vh1)


33 Child Stars: Where Are They Now? (Celebuzz)