Virginia Madsen, Steve Carell, and More Pay Tribute to Roger Ebert on Twitter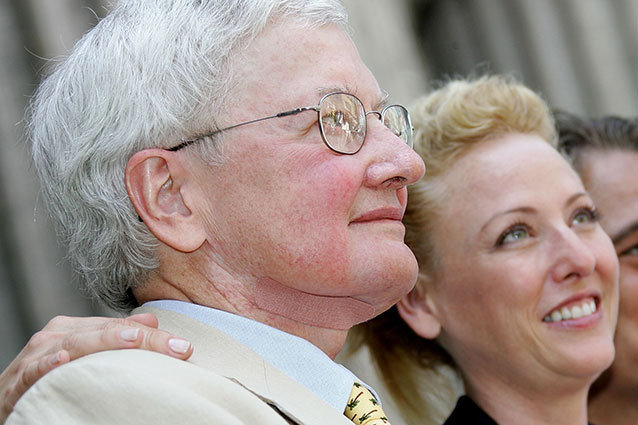 Thursday was a sad day in Hollywood and the world over as we had to say goodbye to highly revered film critic Roger Ebert. Ebert, who had been battling thyroid cancer since 2002, stepped down from his duties at the Chicago Sun-Times just yesterday. Given the statement he made on Wednesday that he would continue reviewing movies of his choice, it was shocking to learn that cancer took Ebert's life so soon.
RELATED: Roger Ebert Dies At 70
In the wake of Ebert's death, Hollywood is taking to Twitter to remember the amazing man who was the first film critic ever to win the Pulitzer Prize. See what the stars are saying about Ebert's death below.
Roger, I hope you're in an infinite movie palace, watching every film the great directors only dreamed of making. RIP, @ebertchicago

— Patton Oswalt (@pattonoswalt) April 4, 2013
Roger Ebert R.I.P. See you at the movies.

— Michael Ian Black (@michaelianblack) April 4, 2013
I started watching/reading @ebertchicago in 1984. He was a good man & a fierce advocate for great film. #RIPEbert

— RainnWilson (@rainnwilson) April 4, 2013
Roger Ebert. Millions of thumbs up for you. RIP

— Michael Moore (@MMFlint) April 4, 2013
Film critic Roger Ebert dies at 70 after battle with cancer – @suntimes bit.ly/13V3yIt via @breakingnews SO FAST! Praying 4 his fam

— Carson Daly (@CarsonDaly) April 4, 2013
Sad news today, Roger Ebert has passed away. bit.ly/10feETU #breaking #brking

— maria menounos (@mariamenounos) April 4, 2013
Hail hail, a moral genius of great depth and understanding has passed from this realm.

— Roseanne Barr (@TheRealRoseanne) April 4, 2013
RIP Roger Ebert

— David Katzenberg (@DavidKatzenberg) April 4, 2013
So sad to read passing of Roger Ebert. He will forever bewatching movies with Gene Siskel. Thumbs up to him!

— Marlee Matlin (@MarleeMatlin) April 4, 2013
Reading Roger Ebert's reviews as a kid was instrumental in determining what I did w my life. He will be sorely missed.

— Justin Long (@justinlong) April 4, 2013
Roger Ebert was an excellent writer, a gifted artist, and as nice a guy as you'll ever meet.Sad he's gone.

— Jimmy Kimmel (@jimmykimmel) April 4, 2013
Thanks Mr. Ebert.

— Steve Carell (@SteveCarell) April 4, 2013
Dear Roger- you were a true friend to my me and my family. Thank you. Your voice will never be silenced. #rogerebert

— virginia madsen (@madlyv) April 4, 2013
we lost a thoughtful writer, i remember my first review from him, pi (i got his and siskel's thumbs) it was a career highlight. #rogerebert

— darren aronofsky (@DarrenAronofsky) April 4, 2013
Shocked and truly, deeply saddened at the loss of the great Roger Ebert. A legend. His voice will be missed.

— Anna Kendrick (@AnnaKendrick47) April 4, 2013
RIP and goodbye Roger Ebert. You sent me such nice emails over the years. I loved your twitter feed, enjoyed your reviews. Thank you.

— Neil Gaiman (@neilhimself) April 4, 2013
My thoughts & prayers go out to my friends & colleague Roger Ebert & his phenomenal wife Chaz. Love and strength to you both @ebertchicago

— Leonard Maltin (@leonardmaltin) April 3, 2013
Sad to hear about the passing of Roger Ebert, he was a grand man & in my opinion the dean of American film critics-he will be sorely missed

— Larry King(@kingsthings) April 4, 2013
RIP the inspiring Roger Ebert. One of the greats.

— Anthony Bourdain (@Bourdain) April 4, 2013
Just heard about the death of Roger Ebert. He was a nice, nice man. I truly liked him – I'm very sad.

— Joan Rivers (@Joan_Rivers) April 4, 2013
I Miss My Dear Friend Roger Ebert.Roger Was One Of The 1st Major Movie Critics To Support My Joints,Especially Malcolm X And DTRT.-R.I.P.

— Spike Lee (@SpikeLee) April 4, 2013


Follow Lindsey on Twitter @LDiMat.
[Photo Credit: Frazer Harrison/Getty Images]
---
From Our Partners


Hayden Panetierre Bikinis in Miami (Celebuzz)


Every Jurassic Park Dinosaur Ranked From Best to Worst (Vulture)