'Rolling Stone' Crowns Eminem The King of Hip-Hop
We all know Michael Jackson was and forever will be known as the King of Pop, but have you put much thought into who would make a fitting King of Hip-Hop? Rolling Stone magazine has and they recently revealed their list of today's top rappers in the game, which included names Kanye West, Jay-Z, Eminem, Lil Wayne, and Drake. Seems like pretty fitting contestants, since they are the dominating rappers on the billboard charts. So which artist received top billing on the magazine's hip-hop chart? The results are in on who deserves the honor of wearing the highly coveted hip-hop crown. And the winner is…
Eminem! Wait…what?! Am I the only one surprised with this verdict? Between Kanye and Jay-Z's well-known success in the music industry and Drake and Lil Wayne's ability to pop out a hit single almost every week, you'd think one of those guys would walk away the Ruler of Rap. What gives? Apparently this decision was based on a variety of aspects of the nominees' careers, including albums released from 2009 to the present, album sales, rankings on the R&B, hip-hop and rap charts, YouTube video views, social media, concert grosses, awards and critics' opinions. And Marshall Mathers STILL won? Evidently he took the title based on his album sales (7.5 million during the time period) as well as YouTube views (1.3 billion) and social media (44 million Facebook likes and 5 million Twitter followers). See Kanye, this is what happens when you hijack a mic from T-Swift — that shit comes back to haunt you.
This still doesn't seem fair, but the magazine claims, "We're not looking for the all-time greatest, although many of our contenders would vie for that crown. Some of them have only been recording a couple of years; others have been in the game since the 1990s. But that's what makes hip-hop exciting – it's plausible for someone who was watching cartoons when Jay-Z dropped his debut album to emerge as a contender for the title." Still sounds rather slim shady to me, but hey it's their list — their decision.
Here's where everyone else ranked (notice our girl Nicki Minaj is representing the ladies):
1. Eminem
2. Lil Wayne
3. Drake
4. Kanye West
5. Jay-Z
6. Nicki Minaj
7. Rick Ross
8. Ludacris
9. Gucci Mane
10. T.I.
11. Snoop Dogg
12. Diddy
13. Pitbull
14. Fabolous
15. Wiz Khalifa
16. B.O.B.
17. Waka Flocka Flame
18. Lupe Fiasco
19. Kid Cudi
20. Big Boi
Click on the image below for more photos of Marshall Mathers!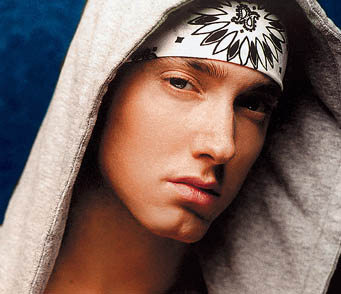 Source: E!, Rolling Stone