Romeo Beckham Puts his Good Genes to Use, Models for Burberry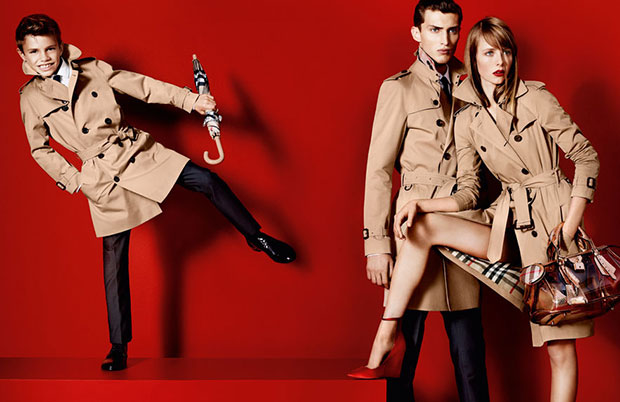 With a fashion designer for his mom and the hottest underwear model on Earth for his dad, it was only a matter of time before Romeo Beckham stepped in front of the camera himself. Despite being only 10 years old, little Romeo, son of Victoria and David Beckham, has become the newest (and cutest) face of Burberry's Spring/Summer 2013 campaign. He clearly operates under the "If you've got it, flaunt it" philosophy of life.
And man, does this little cutie got it! Clad in the classic beige Burberry trench coat, complete with plaid umbrella, patent leather black shoes and pressed trousers, Romeo looks like a miniature adorable businessman. He completely steals the spotlight from Edie Campbell and Charlie France, the adult models also sporting matching trenches, in the campaign photos shot by photographer Mario Testino. Admit it, at first you didn't even realize there were any other models besides Romeo in that shot… It's okay, we didn't, either.
What do you think of the newest Beckham foray into the fashion industry? Too cute for words, right? With a huge label like Burberry dressing him, Romeo has suddenly become one of the best dressed celebrity kids in Hollywood. Launch our gallery to see which other celebrity kids are budding fashionistas. 
Check Out These Other Best Dressed Celebrity Kids!
Follow Sydney on Twitter @SydneyBucksbaum
[Photo Credit: Burberry]
More:
Miley Cyrus Channels Michael Jackson via Oh-So-Edgy Crotch Grab
DJ Earworm's 'United State of Pop 2012' Teaches Us 4 Essential Pop Music Truths
From President Obama to the NFL: Most Moving Celebrity Newtown Tributes

'Jack Reacher': The Beginner's Guide To The New Tom Cruise Movie

'Les Miserables' Unscripted: Hugh Jackman, Anne Hathaway On Singing And Being Modest