Who is Rosie Perez, exactly?
Oscar-nominated actress, Emmy-nominated choreographer and White House-appointed activist Rosie Perez sits down with Hollywood.com to dish about The View, being in Larry David's Broadway play Fish in the Dark, and more.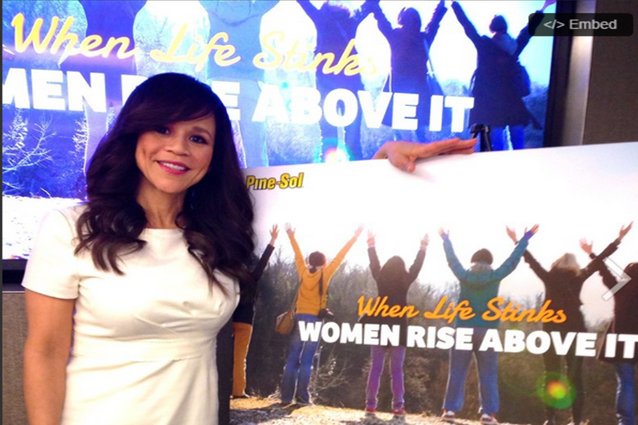 Pine-Sol®
When asked how Perez would describe her experience so far at The View in one word, she said she needed two: Awesome Journey. Perez started as a co-host on The View back in September, alongside Whoopi Goldberg, Rosie O'Donnell and Nicole Wallace. Rumors have been flying that Perez's job at The View is in danger, and she has even been conspicuously missing from the show for days. But Whoopi dispelled any rumors on Wednesday's The View, saying Perez "isn't going anywhere." Also by gauging Perez's reaction when asked about the show, she seems to be very happily employed.
Perez tells Hollywood.com that her dream musical guests for the show would be Prince, Beyoncé or "maybe both of them together! That would be awesome!" Agreed. A Beyoncé-Prince collaboration would be unbelievably awesome.
Perez confirms to Hollywood.com that she will be coming to Broadway in the play Fish in the Dark, written by and starring Larry David. "Great, wonderful Broadway veterans are going to be in it as well." As for David, Perez tells us: "Yes, he's written the play. And he is starring in it. And the man is weird. And I love him. And he is freakin' hilarious." The play is described as a comedy about a death in the family – sounds very Larry David! Its opening night is March 5, 2015, at the Cort Theatre.
Perez also works tirelessly as an activist. She teamed up with Pine-Sol to launch "When Life Stinks, Women Rise Above It," an online peer-to-peer mentorship campaign, teaming up women across the country to inspire each other as mentors and mentees. There's also an Instagram contest that has some pretty rad prizes. Post a pic holding up a sign of your mentor's name with the hashtag #WomenRiseAboveIt. You'll then be eligible to win gifts like $5k or a year's worth of cleaning services provided by Pine-Sol. Now that's the power of Pine-Sol.
Speaking of mentors, Perez tells us that one of her mentors is Eve Ensler, author of The Vagina Monologues. "She advised that I needed therapy and she was dead on," Perez tells us, laughing. "She was like, Listen, despite all your success, you still have issues. And I'm so glad I listened to her and it really, really changed things for me in the most positive way."
Mentoring is a great cause for those looking to inspire or be inspired. Find out more about Pine-Sol's mentorship campaign at WomenRiseAboveIt.com.
Perez's book, Handbook for an Unpredictable Life: How I Survived Sister Renata and My Crazy Mother, and Still Came Out Smiling (with Great Hair), is also out now. Click here for more details.